Foam Letters & Logos for interior walls
Painted foam letters and graphics for dimensional wall signs.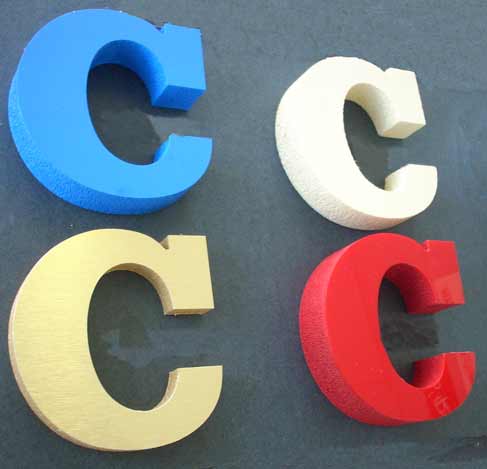 Indoor foam letters are a cost effective way of producing dimensional wall lettering for a custom lobby sign, office suite identification or any other interior space that needs a professional three-dimensional look. Our painted GatorFoam letters are composed of a light-weight foam in varying thicknesses. They can be painted any custom color to encompass the whole letter; or have a painted face in one color and a painted body (return) in another. also available is a metal face or face laminates placed on the front of the foam letters, giving you many different interior foam letter combinations.
Interior foam letters are very economical in comparison to metal letters and some specialized plastic letters. Painted foam letters come in a variety of standard fonts or can be custom cut to your own brand specific logo with the art file.
These sturdy, yet light weight foam letters, are intended for indoor use and have a multitude of mounting options depending on the size of your foam lettering, and how it needs to be used for display. Painted foam letters are available in thicknesses from 1/2" to 2" and offer great depth at an affordable price.


Foam Letter Choices:


Interior Foam Letters
Interior/Exterior Foam Letters


Extended Use Outdoor Foam


Get Info. & Pricing
Get Info. & Pricing
Get Info & Pricing

- Sturdy GatorFoam for interior use only.
- Lots of standard custom color choices.
- Laminated face options in metal or plastic.
- Thickness range of 1/2" - 2".

- Durable 2lb. foam for interior/exterior use.
- Standard & custom color paint options.
- 19 metal & 25 plastic laminate choices.
- Thickness range from 1" - 3".
- High density urethane paint-coated foam.
- Moisture resistant for extended outdoor use.
- Tons of size, color and laminate choices.
- Thickness range from 1/2" - 3"
For more information on our indoor foam wall letters, give our sign lettering experts a call.
Local: 714-573-9313