Why Use Vinyl Banners?
Top 5 Reasons To Choose Vinyl Banners for Advertising!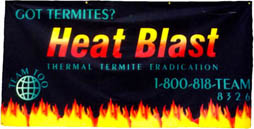 We've all seen vinyl banners around town advertising Happy Hours, Dinner Specials, Holiday Sales, Business Names and the like. And while there are lots of ways to effectively draw attention to your business you may wonder why vinyl banners remain so popular and so viable in this technological age. And while neon LED lights and big screen TV images will definitely get you noticed, there are five great reasons why vinyl banners, while not as flashy, are still highly marketable and a smart choice for outdoor advertising, branding, marketing and information.
1 | COST EFFECTIVE
First and foremost one of the top reasons vinyl banners are a great advertising option is their price. Even large vinyl banners are still relatively cheap. Vinyl banners can just as effectively identify your business; inform the public of sales, events or specials; be custom created for personal uses like birthday celebrations, weddings and more; or used for booth identification at swapmeets, tradeshows and farmer's markets, to name a few, at a fraction of the cost and still look professional enough to attract business without going overboard.
2 | VIBRANT GRAPHICS
Technology just keeps evolving and evolving which has lead us into the visually stunning arena of the digital printing process. Most sign companies utilize high-end digital printers that produce striking colors and images in all colors of the rainbow that draw people in for a closer look. Coupled with cost effective vinyl banner pricing the expanded visibility of digitally printed vinyl banners makes a great combo for the budget minded who want quality advertising via digital imaging at a fair market price.
3 | QUICK TURNAROUND
Back in the dark ages of vinyl banner production most vinyl banners that wanted graphics of any sort had to opt for using cut vinyl to create logos. Cutting vinyl are colored rolls of adhesive material that is cut to a specific shape and applied to a vinyl banner. For multiple colors this old vinyl banner making process was very tedious and time-consuming. Whereas nowadays with the invention of digital printing a vinyl banner can be printed in less than a half an hour, depending on the size of the vinyl banner, and ready for pick-up in less than a few hours or printed and shipped to your door on the same day. This comes in handy when your deadline has slipped away from you and you need a vinyl banner fast!
4 | DURABILITY
Vinyl banner material is essential a very thick plastic that is still flexible like fabric allowing the banner to be able to last for long periods of time outdoors in the elements and almost indefinitely indoors. Most market vinyl banners are printed on 10 oz. or 13 oz. vinyl banner material that holds up well under most normal weather conditions (heavy winds or improper installation can lead to banner damage, so please make sure to properly hang or install your vinyl banner). Vinyl banners also need very little cleaning or maintenance during the course of their life.
5 | VERSATILITY
Vinyl banners can be hung and installed lots of different ways adding to their versatility in advertising factor. Most vinyl banners are outfitted with metal grommets (holes that are safely punched through the material for hanging) and can be hung indoors or outdoors by the grommets, secured with bolts into a wall, with bungee cords or by stringing ripe or fishing wire through the grommets and tying it off too poles, trees, etc. Vinyl banners can be hung in your store and then rolled up and hung from a table to represent your company at a tradeshow, job fair or other company event. Vinyl banners can also be stored and used year after year for annual events thus expanding your savings by not having to purchase further advertising on a yearly basis.
---
Any which way you look at it vinyl banner advertising is the best bang for your buck for all sorts of advertising options for business and personal use. When you combine all aspects of vinyl banner printing you have a very low cost, great looking, rugged, versatile advertising product that can be produced quickly for business or personal advertising.

For information or pricing on our vinyl banner products and services please give Quick Signs a call at (714) 573-9313 or Request a Vinyl Banner Quote online.