Large Banner Pricing
Extra Large Rugged Banners

Big banners, when you need them
All Sizes in beautiful full color! High resolution digital prints!
Fully hemmed with brass grommets placed approx. every 2 feet.
Optional banner add-ons: Pole pockets, two sided printing and more.
Solvent inks: Longest lasting 3 - 5 year plus outdoors.
For smaller banners under 52", see our Standard Digital Banner pricing.

Low Prices...Call Now!

---
Photo Samples

About our Big Banners

FAQ's About Big Banners

How to order big banners
Large format vinyl banner printing
Rugged and durable over-sized banners!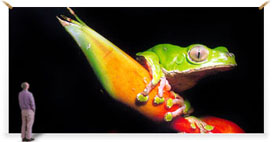 Our Dura-Tuf digitally printed vinyl banners are printed on 13 oz., vinyl scrim banner material. Lasting for years, these banners are ideal for both indoor and outdoor use and are fire resistant. The most common uses for printing on our Dura-Tuf banner material are:
Large building banners:

For Lease banners; Under New Ownership banners; Sale banners, etc.

Trade show banners:

Banners and backdrops for trade show displays and overhead hanging banners.

Sports Banners:

Baseball, Soccer, Football team banners.

Church Banners:

Religious, spiritual and inspirational banners.

Political Banners:

Democratic and GOP banners. Local government election banners.

Special event banners:

Wedding and Anniversary banners, as well as Graduation and Birthday banners.
All Dura-Tuf digitally printed banners are trimmed to size with double stitched hems and brass grommets (eyelets) placed approximately every 24" to 30" for easy installation. We use only environmentally safe eco-solvent inks, that are fade resistant up to 3 years of continuous outdoor use.
Dura-Tuf custom vinyl banners are the perfect medium to promote your event, product or business. They can be printed to "Billboard" size, and with this large and visually appealing method, you can be sure to draw a crowd.
Frequently asked questions about our big banners
Answers to your most common questions
What size is considered an extra large banner?
Any digital vinyl banner measuring over 52" in height or width, depending on the orientation of your banner (horizontal vs. vertical.) Once the print area exceeds that size, the banner needs to be printed on an over-sized machine that can accommodate very large "billboard" sized banner printing.
WHAT IF I DON'T SEE A FINISHING OPTION THAT FITS MY NEEDS ON THE PRICING CALCULATOR?
The pricing calculator offers a few specific finishing options that are popular on the market today. The options listed are not representative of all the options currently available. If you do not see a finishing option that you need or would like to inquire about, please feel free to give us a call at (714) 573-9313, or submit a Quotation Form online, stating your specific finishing requests, and one of our sales representatives will gladly assist you.
WILL MY ART FILE BE ADEQUATE TO PRINT ON AN OVER-SIZED BANNER?
Large format digital printing requires high resolution artwork to be able to print clearly and beautifully. We suggest submitting a file that is built to half size (with a dpi of at least 300) so that when enlarged to the correct dimensions will print properly. If you are in question as to whether your artwork will be sufficient, we offer FREE art consultation services to determine if your artwork is usable. To have your artwork reviewed for free, please submit your artwork online by clicking on this UPLOAD link, so that one of our design staff can inspect your file and call you with the results of their findings.
HOW LONG DOES IT TAKE TO PRODUCE THIS TYPE OF BANNER?
Most orders for our extra large, over-sized Dura-tuf banners usually take about 7 - 10 business days to complete "after customer approval." Since these banners require more steps in the finishing process, (i.e. cutting, stitching, grommetting) they require more lead time to complete. As with any of our products, if you need the banner sooner than our normal turn-around time, you can request a RUSH, which puts you ahead of our other printing jobs, and can possibly cut the lead time down to around 3 - 5 business days, depending on the quantity and size of your order.
HOW DO I PRICE/ORDER DOUBLE-SIDED BANNERS ONLINE?
To price or order a double-sided banner accurately, it is best to give us a call. But we understand that a phone call may not always be an option. For double-sided pricing, please fill out our Online Quotation form, and one of our sales staff will contact you within 24 hours to discuss pricing and ordering options.
More Questions?

If you have any other questions, or would like more information about our extra-large vinyl banners, please give our specialists a call (714) 573-9313.
Ordering banners online
It's as easy as 1, 2, 3
1. Get a price. Choose your size, quantity and finish from the pricing calculator on this page. If you are not sure if this is the right product for your needs, or have questions regarding this type of banner, give us a call at 714-573-9313, we are here to help.
2. Place your order. After you get your price, click the "Order Now" button. A credit credit card is all we need to get started. We accept all major cards. Order your product with confidence as our secured servers provide the protection you need when ordering online.
3. Upload your artwork. Easy upload of your artwork. When we receive your artwork we'll open it, check the artwork for overall quality, sizing, compatibility and color. After inspection, we scale your artwork, if needed, to fit the requested size and contact you regarding our findings, if we have any concerns about the quality of your artwork.
Banner Satisfaction. OrangeCountySigns.com offers the best quality vinyl banners at a fraction of the competitor's prices. Our customer service and attention to detail make the ordering and design process easier than ever. Coupled with our quick production time and RUSH options, you can have your Dura-Tuf vinyl banner in time for your next big sale or special event.
Your digitally printed vinyl banner(s) will ship quickly, look fantastic, and you can be sure to impress ALL of your potential customers. E-mail us or give us a call, and get your Dura-Tuf vinyl banner order started today!