Common Sized Large Banner Pricing
Indoor/Outdoor multi-purpose Banners!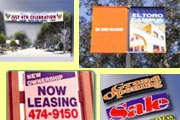 Banners when you need them...Quick!
Maximum height 52" by any length. Seamless, straight cut edges for a smooth clean look.
Glossy or Matte finish on rugged 13 oz. flame resistant vinyl material.
Fade resistant: Long lasting fade resistant inks, 2-3 years outdoor life.
Install ready: Brass grommets in all four corners for easy installation.
For banners over 52" in height, see our X-tra Large Banner pricing.

Low Prices...Call Now!

---
Photo Samples

About vinyl banners

FAQ's

How to order banners
Vinyl banner printing
Perfect banner type for indoors and outdoors!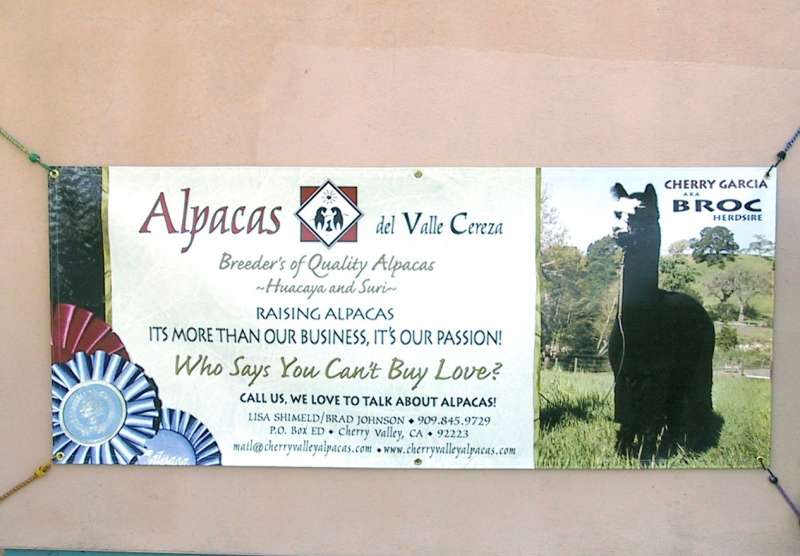 Our Standard (XLT) digitally printed vinyl banners are printed on 13 oz. vinyl scrim banner material that has a slightly glossy finish. While our Rip-Resistant banner is printed on a 15 oz. vinyl that has a more matte finish. Both banner materials are fire resistant and are ideal for both indoor and outdoor use. For pro-longed outdoor banner use we recommend ordering a rip-resistant banner.
The most common uses for printing on our XLT/Rip-Resistant banner material are:
Announcement banners:

For Lease banners; Under New Ownership banners; Sale banners, etc.

Trade shows banners:

Banners for trade show displays, table top banners, overhead hanging banners.

Sports Banners:

Baseball, Soccer, Basketball and Football team banners.

Church Banners:

Religious, spiritual and inspirational banners.

Political Banners:

Democratic and GOP banners. Local government election banners.

Special event banners:

Wedding and anniversary banners; Graduation and birthday banners, etc.
Our banners are printed using large format, 6-color, high resolution, photo quality banner printers. All Standard (XLT) and Rip-Resistant banners are printed, trimmed to size and brass grommets (eyelets) are placed in each corner for easy installation. Additional grommets are automatically added to banners over 6' in length.
We use only environmentally safe eco-solvant inks that are fade resistant for up to 3 years of continuous outdoor use, and will last a lifetime with indoor use.
Promotional Banner Printing:
These custom vinyl banners are the perfect medium to promote your event, product or business. Vinyl banners, when placed in high traffic areas, offer great "bang for your buck". There is no better return on your advertising dollar than vinyl banner advertising.
Frequently Asked Banner Questions
Answers to your most common questions
WHAT IS THE DIFFERENCE BETWEEN THE TWO BANNER MATERIALS OFFERED?
Both banner materials can be used indoor and outdoor. The Standard XLT vinyl banner utilizes a 13 oz. material with has a semi-glossy appearance and is more for extended indoor use with short-term outdoor use. A Standard XLT banner will last outdoors for short periods of time, but is not recommended for continual outdoor usage. Our Rip-Resistant banners are printed on a 15 oz. vinyl banner material and has a more flat matte appearance. Rip-Resistant banners will work great indoors as well as outdoors. Rip-Resistant banners are highly recommended for extended outdoor use, because the vinyl material has a more durable weave pattern and can withstand more stress than our Standard XLT vinyl banners.
CAN I ORDER A STANDARD XLT OR RIP-RESISTANT BANNER WITH STITCHED HEMS?
Our Standard and Rip-Resistant banners have straight cut edges and are easy to produce quickly. Adding stitched hems to a banner takes a lot longer, and is a bit more expensive because of the extra steps necessary to complete the banner. Our straight cut edge banners are just as tough and durable as a stitched hem banner and have a professional and clean look. If you would like stitched hems on your vinyl banner, please see our over-sized vinyl banner section for a brief description of the product and for pricing.
WHAT IS A NORMAL BANNER SIZE?
There really is no normal banner size, especially since all our banners are custom made to order. When trying to determine the size for your banner keep in consideration the message you are trying to convey and from how far away it will need to be seen. If you are unsure of what size would work best for your banner, please feel free to give our sales team a call at (714) 573-9313, and let our knowledgeable sign specialists help you pick a size that best fits your needs.
HOW LONG DOES IT TAKE TO PRODUCE THIS TYPE OF BANNER?
Both the Standard and Rip-Resistant banner can be produced fairly quickly, since these banners are both directly printed on the vinyl banner material. Depending on the size of your order, most banners are completed within 2 - 4 business days. We do offer Rush services for those that need a quickly turn-around time and can produce a banner for you within 24 hours or less.
WHAT IF I NEED HELP WITH DESIGN?
In addition to printing Quick Signs can also help with design (in most cases). We have talented graphic artists that can create a design from scratch; utilize customer supplied art file components to create a design; or recreate a design from a supplied visual. While this service is not exactly free of charge, our pricing for design help is relatively cheap and affordable, and usually ranges in price from about $ 15 - $ 75...depending on the complexity of the design. For art assistance, please call (714) 573-9313, or submit an Online Quotation form with your artwork and special instructions for our design team to look over and assess.
More Questions?
If you have any other questions, or would like more information about our Standard and Rip-Resistant vinyl banners, please give our specialists a call
(714) 573-9313.
Ordering printed banners online
It's as easy as 1, 2, 3
1. Get a price. Choose your type of vinyl banner (Standard or Rip-Resistant), then a size, quantity and finish from the pricing calculator to the right of this page. If you are not sure if this is the right product for your needs, give us a call at (714) 573-9313, we are here to help.
2. Place your order. After you get your price, click the "Order Now" button. A credit credit card is all we need to get started. We accept all major cards. Our secured servers provide the protection you need when ordering online.
3. Upload your artwork.Easily upload your artwork online. When we receive your artwork, we'll open it, check the artwork - for FREE - to assess the overall quality, sizing, and color compatibility of the file. After inspection, you will either receive an email with your visual proof and pricing confirmation; or, if we have concerns about your artwork, you will be contacted by one of our design team to discuss our findings.
Banner Satisfaction. OrangeCountySigns.com offers the best quality vinyl banners at a fraction of the competitor's prices. Our customer service and attention to detail make the ordering and design process easier than ever. Coupled with our quick production time and RUSH options, you can have your digitally printed vinyl banner in time for your next big sale or special event.
Your digitally printed vinyl banner(s) will ship quickly, look fantastic, and you can be sure to impress ALL of your potential customers. E-mail us or give us a call, and get your vinyl banner order started today.