Large Decal Pricing
Large Adhesive Vinyl Decals & Stickers.

Big stickers for big jobs!
Any Color, Any Quantity, Any Size!
Ideal for Vehicle Wraps, Wall Murals or other large vinyl projects.
Hi-resolution prints on standard or premium vinyl with lamination options.
Solvent based inks: Fade resistant, lasting up to 3-4 years outdoors.
For smaller decals and stickers, see our Standard Decal pricing.
For do-ityourself installations, inquire about our Vinyl Application Kit
Decal Styles

Photos

About large decals

FAQ's - Large Decals

Ordering large decals
Decal cutting options:
Our decal pricing calculator is based on the Standard Print and Print on Clear options show belown.
Cloud Cut and Die-Cut carry additional costs...call (714) 573-9313 for custom cut pricing.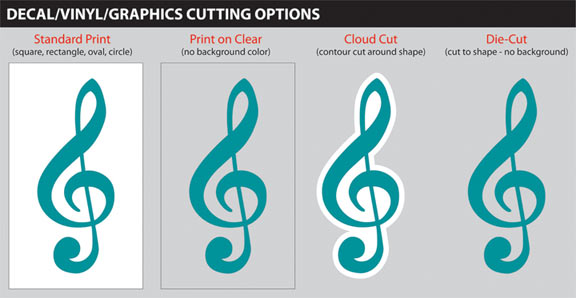 Standard Print (white background): Printed on white vinyl. Cut to simple shape (square, rectangle, oval, circle, etc.)
Print on Clear (clear background): Printed on clear vinyl. Cut to simple shape (square, rectangle, oval, circle, etc.)
Cloud Cut: Cut to the outside contours of your image leaving a thin border all the way around (clear or white vinyl)
Die-Cut: Cut to the exact shape of your decal leaving no background at all.
---
If you have any questions about custom decal cutting or supplying a vector file for die-cut decals, please give us a call at (714) 573-9313.
Or request a Custom Cut Decal Quote!
Extra large digital decals for vehicles, walls, windows, and more.
See our work
For more information on large decals please call (714) 573-9313.
Extra-large decals for vehicles, walls and windows!
Any size, any color, any quantity.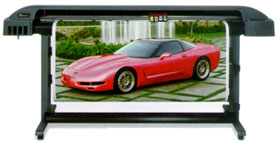 Here at OrangeCountySigns.com we can help you cover large surfaces with our over-sized vinyl decals and stickers. Any decal or sticker that measures over 42" in height (with lamination) or over 52" (without lamination) is considered an over-sized large decal. Our giant decals and stickers are printed on either white or clear vinyl and have a rectangular or square shape. Oval, circular and die-cut options are available upon request.
Full or Partial Wraps:

Cars, trucks, vans, boats, etc.

Murals:

Create a custom landscaped look on any wall or window surface.

Interior Decorating:

Why paint? Extra large decal/stickers can be applied just like wallpaper.

Billboards & Displays:

Mount to aluminum, PVC, coroplast, MDO, etc. or any smooth non-porous surface.

Floor Decals:

Get creative with the ground you walk on!
Our over-sized giant decals and stickers have an adhesive backing that adheres to most all smooth non-porous surfaces. Large decals and stickers are a do-it-yourself project waiting to happen to liven up walls, windows, vehicles, floors and more! These large sized decals are great for covering big areas with custom graphics and images without the hassle of a custom paint job and can be applied by yourself or installed by a professional.
Large decal/stickers are priced according to size, quantity and die-cutting (if applicable). Regular prints for large decals are square or rectangular shaped in origin, but we can definitely accommodate customers that are in need of a custom cut on their over-sized decals. To obtain pricing on die-cut large decals and stickers, please give us a call at (714) 573-9313, or fill out our Online Quotation form and submit your artwork for assessment.
Frequently asked questions about our large decals
Answers to your most common questions
WHICH GRADE OF VINYL SHOULD I CHOOSE?
Choosing the grade of vinyl for your large decals and stickers comes down to how it will be used. In most instances Standard vinyl is suited for application on any smooth non-porous surface. "Standard" vinyl will work perfectly and last for a couple of years without lamination. "Premium" vinyl is better suited for non-porous surfaces that have a slight texture or minor obstacles (like rivets, concaved surfaces, molding, etc.) Premium vinyl should always be used on vehicle applications because it is thinner and has a more aggressive adhesive. Adding lamination to either vinyl choice will protect and extend the life of the print.
DO I NEED TO LAMINATE MY LARGE DECAL/STICKER?
If you are purchasing an over-sized decal or sticker for vehicles, the answer is always...Yes! For all other applications, lamination is an option. Laminating your print will protect it against the elements and cleaning and add to the longevity of the print, while also guarding against abrasions and scratching that can occur.
WHAT IS THE DIFFERENCE BETWEEN THE AVAILABLE LAMINATION CHOICES?
As with our vinyl grades, we carry two different lamination finishing options....Gloss and Matte. Gloss lamination gives a more shiny wet look, whereas, the Matte finish has a more flat appearance that produces less glare than gloss lamination. Please keep in mind that although we offer two different lamination finishes, when choosing "premium" grade vinyl for your large decals and stickers, gloss lamination is the only option available. We do not carry "matte" lamination for "premium" vinyl.
I NEED MY LARGE DECALS/STICKERS TO BE DIE-CUT...IS THAT AN OPTION?
For the most part...Yes! To be able to die-cut large decals and stickers we will need for you to furnish the proper files for our computer to be able to read the cut lines and trim around your supplied graphics. The only files that can be used for die-cutting are "Vector" files. Illustrator, InDesign and Corel Draw can produce "vector" files. If you have a Photoshop (.jpg, .tif, .psd) file or any Word based file, the artwork will not initially be cut-ready. In any case, submit your artwork for a FREE evaluation by our design team, to assess whether your file can be die-cut. If the file is not able to be die-cut, then we can discuss any alternatives that may be available to produce the large decals or stickers you need.
ARE THERE ANY ARTWORK SET-UP FEES?
Most all files that are sent to us for print production are "ready-to-print" and will not incur any set-up fees. Ready-to-print artwork consists of a file that is in a printable format that can be sent directly to our large format printers without any design work. If you do not have print-ready artwork, our design fees start at .00 but can range up to .00 an hour for complicated or multiple designs. If you need help with your artwork, it is always best to give us a call to discuss what your design needs are. We have very talented graphic artists that can help you with the design process and provide you with a quotation for any artwork set-up that you may need, from simple text layout to more complex graphic design include text, photos and clip-art.
More Questions?
If you have any other questions, or would like more information about our decal stickers, please give our specialists a call
(714) 573-9313.
Ordering large decals online
It's as easy as 1, 2, 3
1. Get a price. Choose your size, quantity, grade of vinyl (standard or premium) and laminate finish (if applicable), from the pricing calculator on this page. If you are not sure if this is the right product for your needs, or have questions regarding this type of large over-sized decal/sticker, give us a call toll free at (714) 573-9313, we are here to help.
2. Place your order. After you get your price, click the "Order Now" button. A credit credit card is all we need to get started. We accept all major cards. Order your product with confidence as our secured servers provide the protection you need when ordering online.
3. Upload your artwork. Easily upload your artwork online. When we receive your artwork, we'll open it, check the artwork - for FREE - to assess the overall quality, sizing, and color compatibility of the file. After inspection, you will either receive an email with your visual proof and pricing confirmation; or, if we have concerns about your artwork, you will be contacted by one of our design team to discuss our findings.
Large Decal/Sticker Satisfaction. OrangeCountySigns.com offers the best quality over-sized large decals and stickers at a fraction of the competitor's prices. Our customer service and attention to detail make the ordering and design process easier than ever. Coupled with our quick production time and RUSH options, you can have your large decals or stickers within a few days (on most orders.)
For our non-local customers, your digitally printed over-sized large decals and stickers will ship quickly, look fantastic, and arrive ready-made for instant application. E-mail us or give us a call, and get your large decal or sticker order started today!