Need an oversized novelty check? Call us!
Jumbo checks are great for charities, events, fund raising and more.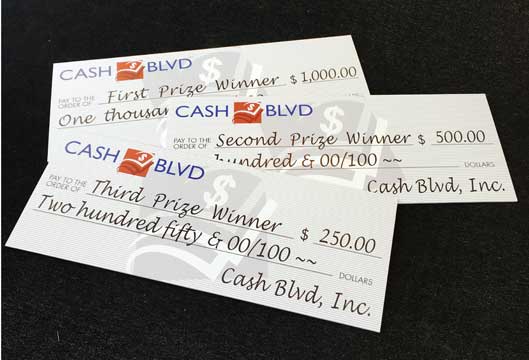 Oversized checks are a great novelty sign product and are widely used during photo opportunities for charity events, fundraisers, donations, promotions, lottery winners, presentations and more. Oversized checks are printed at extra-large sizes so that they can be read from a distance and so that they will also photograph well with all the pertinent check information visible. Oversized checks can be printed to just about any size and either roll-up or come mounted to a rigid substrate.
Oversized checks can be ordered in just about any size for a single use event or coated with a special dry-erase lamination to make them reusable for a host of different events or presentations. Oversized checks can also be produced for personal presentations like birthdays, gag gifts or used as party props or for decoration.
If your oversized check doesn't need to be able to stand up (or stand alone) the novelty check image can be ordered as a poster print. Poster prints are printed onto an 8 mil satin paper material that has a matte finish. This is what we call our roll-up oversized check option. For presentation or decoration a roll-up oversized check can be unfurled and held or subsequently framed for display.
For a more rigid oversized check you'll want to upgrade from a poster print to a mounted check option. Mounted oversized checks are in essence a digitally printed decal that is adhered to a semi-rigid or rigid substrate. Oversized checks that are mounted to a rigid substrate become three-dimensional in nature (height, depth and width) and can stand alone or be presented as a solid piece.
The most popular rigid substrate utilized for oversized check mounting is foam board (or foam core). This is a lightweight material that very portable and affordable. Foam board is actually considered a semi-rigid substrate but it durable enough for most oversized check uses. Other alternate mounting substrates for oversized check printing are PVC or aluminum.
And depending on how your oversized check needs to be used you may want to consider lamination. If you are purchasing a single-use oversized check then a laminate is not necessary. But if your oversized check needs require continual reuse with different information you'll want to inquire about a dry-erase lamination.
---
Have questions about oversized check printing, or any other form of signage, give us a call at (714) 573-9313.