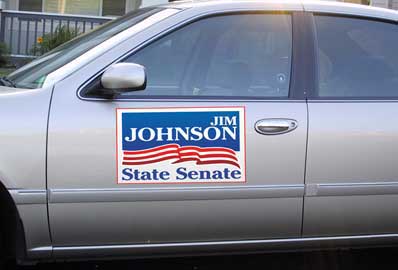 Political and Election Magnetic Signs
100% American made, 30 mil magnetic material.
Ultra high resolution photo quality print resolution.
Laminated to extend the life of your magnets.
Long lasting outdoor lifespan: 2 - 4 years.
Standard and custom sizes available.
For promotional Political/Election stickers,
see our Bumper Sticker pricing.
Instant Pricing Calculator!
---
Photo Samples

About politcal magnets

How To Order

FAQ's About Magnetic Signs
Political magnetic signs for Campaigning
See our work
For more information on political magnetic vehicle signs please call (714) 573-9313.
Magnetic Signs for Political Campaigns
Car Door Magnets for Election.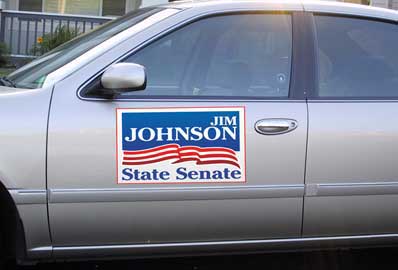 Each year, as Election Day draws near, one sees more and more political advertising. Whether it is a television ad or a mail campaign, advertising can be expensive, especially for the local candidates. One sure fire way to get the word out for any candidate is to use affordable, durable, professionally printed political car magnets. No matter how big or small the campaign's own fleet of cars is, OrangeCountySigns.com is able to quickly and affordably print your political campaign magnetic signs.
Why stop at just the campaign's and the political hopeful's vehicles? Campaign volunteers, campaign supporters and party officials should all be enlisted to help the cause. Why not ask them to join in and display the political car magnets that support the best candidate for the job on their vehicles as well. Political exposure for such a relatively small investment can be crucial for a candidate. After all, during a campaign, the candidate needs not only get his or her position out but must also keep pushing his or her name into the forefront of the voters' minds; name recognition is crucial if one wants to get elected. The sheer number of people that can be exposed to a candidate's name, logos, and slogans when the information is on political car magnets on multiple cars that pass by daily should not be overlooked.
Car door-sized political car magnets not only announce the candidate's name, but also include the campaign logo. Take it a step farther and include the catchy slogan that the candidate hopes will be remembered as voters go to the polls. These are durable magnetic signs are made on high quality American made materials. The inks are colorfast and remain bright and will easily last throughout the election season. Our laminated finish will help to assure even longer life as these political car magnets are displayed daily from the inception of the campaign right through to Election Day. Bright colors matched perfectly to those that have been chosen as part of the overall campaign theme can be reproduced by our OrangeCountySign.com design specialists with great accuracy so that all campaign materials fit together and convey a seamlessly cohesive campaign from letter head to political car magnets.
Inexpensive car magnet advertising can reach a vast number of constituents and is vital to all political campaigns. Budget constraints require that the most cost effective means of keeping the candidates' names on the voting public's minds must be chosen. There are few, if any, alternatives better than the professionally made, highly noticeable political car magnets. Ordering car door magnets is a quick and easy process that will most assuredly produce the desired effect; the voting public will have the name of the candidate in front of them on a daily basis.
Ordering political magnetic signs online
It's as easy as 1, 2, 3
1. Get a price. Choose your desired magnetic sign size, quantity and finish from the pricing calculator to the right of this page. If you are not sure if this is the right product for your needs, please call our magnetic sign consultants at (714) 573-9313. We not only give you advise on the properties of our magnetic signs, but we will help guide you through the process of ordering political magnetic signs to best attract attention and get your message across.
2. Place your order. After you determined the price or your magnets, click the "Order Now" button. A credit credit card is all we need to get started. We accept all major cards. Our secured servers provide the protection you need when ordering online.
3. Upload your artwork. Easily upload your artwork online. When we receive your artwork, we'll open it, check the artwork - for FREE - to assess the overall quality, sizing, and color compatibility of the file. After inspection, you will either receive an email with your visual proof and pricing confirmation; or, if we have concerns about your artwork, you will be contacted by one of our design team to discuss our findings.
Political and Campaign Magnetic Sign Satisfaction. OrangeCountySigns.com offers the very best in magnetic sign quality for a fraction of the cost of most of our competitors. Our Political vehicle magnets are printed on durable vinyl and applied to 100% American made vehicle grade magnetic material and, as an added feature, all our magnetic signs are laminated to extend their longevity and protect the underlying printed graphics!
Our customer service and attention to detail make the ordering and design process easier than ever. Coupled with our quick production time and RUSH options, you can have your real estate magnetic signs delivered to your door within a few days (on most orders.)
Frequently asked questions about election car magnets
Answers to your most common questions
WHAT IS A STANDARD SIZE FOR A AR MAGNETS?
Truly there is "no" standard size. Every make and model are fairly unique and may have added features like reverse moulding, raised pin-stripping, etc. We do, however, offer some popular regular sizes that we have found work for most small (10" h x 18" w), medium (11" h x 20" w) and large (12" h x 24" w) vehicles. And although you may order these basic sizes, don't forget that all our vehicle magnetic signs are custom made and can be made to any size you need not exceeding 24" in height.
WHAT IS THE ADVANTAGE OF ROUNDED CORNERS ON CAR MAGNETS?
We have been in the magnetic sign business for 25+ years and have found that when it comes to the corner finishing, of these particular vehicle signs, that rounding the corners adds to their longevity. Square corners will eventually start to dog-ear after a few years of peeling them off of your vehicle. But, through the years, we found that slightly rounding the corners eliminates the dog-ear effect and highly recommend that option, to our customers, too extend the life of their magnetic sign. And as for aesthetics?
WHAT IS THE RISK RATIO OF HAVING A CAR MAGNET FLY OFF MY VEHICLE?
If your magnetic sign is maintained and installed properly, then the risk factor of losing a magnetic sign is non-existent. However, if the magnetic sign is placed over any obstacles that will allow air underneath it's surface, then you do run the risk of losing a magnetic while on the road. First and foremost we recommend measuring your available "FLAT" surface area of your vehicle, before ordering your magnetic signs, to assure a perfect fit. Ill fitted magnetic signs, that do not sit flush on the vehicle, can and will fly off. Maintenance is also an important key to not losing magnetic signs. Always make sure to gently clean the application area of your vehicle and the magnetic receptive side of the sign before installation, to remove any dust or debris that may have accumulated, which can cause adhesion problems and result in the loss of a magnetic sign.
HOW LONG WILL MY CUSTOM VEHICLE MAGNET LAST?
Our magnetic signs have a protective laminate that helps to shield the print from the elements as well as regular wear and tear. When our magnetic signs are properly maintained and installed they have a typical longevity of 3 - 5 years, and possibly more.
WHAT IF I NEED HELP WITH MY CAR MAGNET DESIGN?
We have a very talented design staff here at Quick Signs and would definitely love to help you put toge ther a desirable design for your magnetic signs. If you have no artwork at all, you can still order your product online, by clicking the "Order" button and choosing the "I have no artwork" option on the artwork upload page. Once you have completed your order and it is received by our sales staff, you will be contacted to assess what your sign needs to say. If you have pieces or artwork and need help putting them together, please click the "Order" button and then click either the Upload artwork option or Upload artwork later. You may choose multiple items in the upload process on the following screen. If you choose to upload your artwork later, you can upload your artwork after you place your order otherwise you will be contacted by our sales staff to ascertain the files needed to design your magnetic signs.
More Questions?
If you have any other questions, or would like more information about our magnetic signs, please give our specialsts a call
(714) 573-9313.