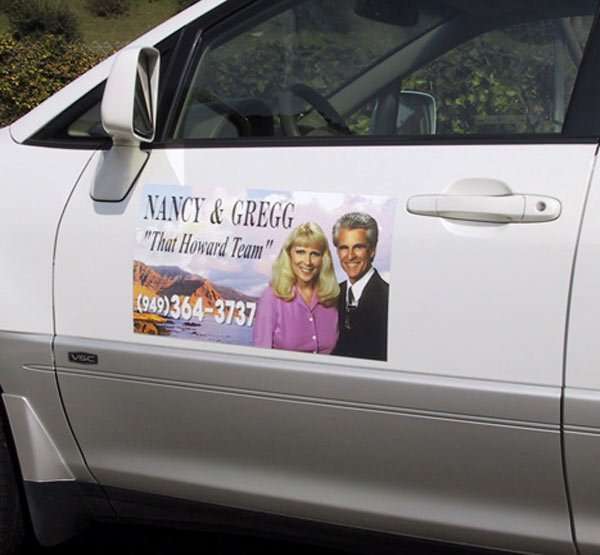 Magnetic signs for Realtors.
100% American-made magnetic receptive surface.
Ultra high resolution digital printing at 720dpi.
Dura-coat Lamination for Added protection.
Any Size - for all makes & models.
Submit own design - Free File check!
No art? No problem! Design services available.
For permanent vehicle decals,
see our Vehicle Decal/Sticker page.
Instant Pricing Calculator!
---
Photo Samples

About Real Estate Car Magnets

Car Magnet FAQ's

Ordering Real Estate Magnets
Magnetic Signs for the Real Estate Industry
Car door magnets for Realtors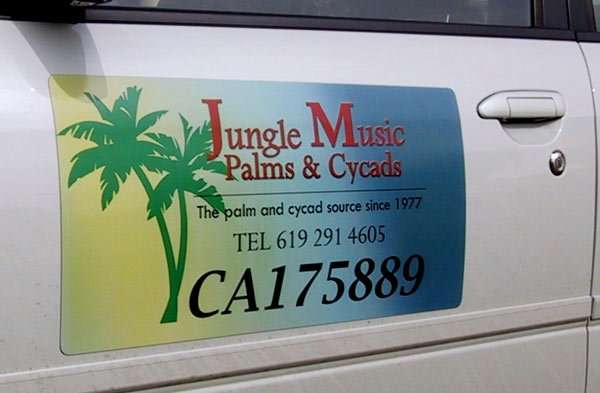 When a realtor is trying to get the word out about his or her business, magnetic signs for the side of the car or truck will do the trick. Unlike cars that are painted with logos and information, these professionally printed real estate car magnet signs are removable for those times when one wants to travel with the family, attend a formal event or just might be off duty for the day. The vehicle signs that are available today are printed on our high quality magnetic material. Real Estate car magnets withstand weather and stay bright and readable for years. New print technology allows for true color logos, photos and other graphics to be included on these real estate car magnets. Business contact information, photos of agents, the region covered by the agency and other important facts can be included on the sign.
Real estate car magnets are an affordable and sensible way to add durable temporary signage to a vehicle. These signs can be removed and replaced as needed with true ease, making them a great way to temporarily advertise ones business, even on a vehicle that is used for the family at other times. Real estate car magnets can be applied to the vehicle's door and then removed to store easily in the vehicle's trunk until ready to use again and again. Realtors often would prefer the opportunity to advertise when needed with the freedom to use their vehicle for other purposes without feeling as if they are always on the job. The ease of use of these signs gives these Real Estate professionals full control over when or where advertising and therefore, business practices take place.
Real estate car magnets can be ordered and delivered in less than a week's time. The size, colors, and any graphics can be chosen by the professional and will be reproduced beautifully on 100% American made magnetic material. These durable real estate car magnets are printed in the highest quality using fade resistant inks. These real estate magnet signs are laminated to further protect the finish and preserve the bright and colorful verbiage and graphics. These practices mean that these signs can last for up to four full years, meaning they are incredibly cost effective.
Real estate car magnets let everyone around know about the agency, the agent, and all of the details of a business. For only pennies a day, there could be no more effective advertisement. The realtor need only drive about doing his or her daily business, listing homes, selling homes, showing properties and holding open houses will all be doubly effective when an agent's car is doing a bit of supplemental advertisement. The casual passerby will wee the professionally made real estate car magnets on the vehicle doors and will know that a professional is in the area working to make a sale.
Frequently asked questions about our magnetic signs
Answers to your most common questions
WHAT IS A STANDARD SIZE FOR A MAGNETIC VEHICLE SIGN?
Truly there is "no" standard size. Every make and model are fairly unique and may have added features like reverse moulding, raised pin-stripping, etc. We do, however, offer some popular regular sizes that we have found work for most small (10" h x 18" w), medium (11" h x 20" w) and large (12" h x 24" w) vehicles. And although you may order these basic sizes, don't forget that all our vehicle magnetic signs are custom made and can be made to any size you need not exceeding 24" in height.
WHAT IS THE ADVANTAGE OF ROUNDED CORNERS?
We have been in the magnetic sign business for 25+ years and have found that when it comes to the corner finishing, of these particular vehicle signs, that rounding the corners adds to their longevity. Square corners will eventually start to dog-ear after a few years of peeling them off of your vehicle. But, through the years, we found that slightly rounding the corners eliminates the dog-ear effect and highly recommend that option, to our customers, too extend the life of their magnetic sign.
WILL MY MAGNETIC SIGN FLY OFF MY VEHICLE?
If your magnetic sign is maintained and installed properly, then the risk factor of losing a magnetic sign is non-existent. However, if the magnetic sign is placed over any obstacles that will allow air underneath it's surface, then you do run the risk of losing a magnetic while on the road. First and foremost we recommend measuring your available "FLAT" surface area of your vehicle, before ordering your magnetic signs, to assure a perfect fit. Fitted magnetic signs, that do not sit flush on the vehicle, can and will fly off. Maintenance is also an important key to not losing magnetic signs. Always make sure to gently clean the application area of your vehicle and the magnetic receptive side of the sign before installation, to remove any dust or debris that may have accumulated, which can cause adhesion problems and result in the loss of a magnetic sign.
HOW LONG WILL MY CUSTOM VEHICLE MAGNETIC SIGNS LAST?
Our magnetic signs have a protective laminate that helps to shield the print from the elements as well as regular wear and tear. When our magnetic signs are properly maintained and installed they have a typical longevity of 3 - 5 years, and possibly more.
WHAT IF I NEED HELP WITH MY DESIGN?
We have a very talented design staff here at Quick Signs and would definitely love to help you put together a desirable design for your magnetic signs. If you have no artwork at all, you can still order your product online, by clicking the "Order" button and choosing the "I have no artwork" option on the artwork upload page. Once you have completed your order and it is received by our sales staff, you will be contacted to assess what your sign needs to say. If you have pieces or artwork and need help putting them together, please click the "Order" button and then click either the Upload artwork option or Upload artwork later. You may choose multiple items in the upload process on the following screen. If you choose to upload your artwork later, you can upload your artwork after you place your order otherwise you will be contacted by our sales staff to ascertain the files needed to design your magnetic signs.
More Questions?
If you have any other questions, or would like more information about our magnetic signs, please give our specialsts a call (714) 573-9313
Ordering real estate magnetic signs online
It's as easy as 1, 2, 3
1. Get a price. Choose your size, quantity and finish from the pricing calculator on this page. To insure an exact fit, it is highly recommended, to measure the available FLAT space on your vehicle before ordering. If you are not sure if this is the right product for your needs, or have questions regarding real estate magnetic signs, give us a call toll free at (714) 573-9313, we are here to help.
2. Place your order. After you get your price, click the "Order Now" button. A credit credit card is all we need to get started. We accept all major cards. Our secured servers provide the protection you need when ordering online.Order your product with confidence, our secured servers will provide the protection you need when ordering online.
3. Upload your artwork. Easy upload of your artwork. When we receive your artwork, we'll open it, check the artwork for overall quality, sizing, color and compatibility. After inspection, you will either receive a visual proof for your approval; or receive a call from our design team, to discuss any problems issues with your artwork, and work to resolve the issue.
Real Estate Magnetic Signs Satisfaction. OrangeCountySigns.com offers the highest quality magnetic signs in the industry at a fraction of the competitor's prices. Our Real Estate vehicle magnets are different than most magnetic sign companies. As an added feature all of our magnetic signs have an additional level of quality....lamination!. In addition to offering the highest magnetic bond available, we also protect the surface of our magnetic signs with a clear lamination. This lamination increased the life of the printed image and protects the magnet from abrasion. All at no additional cost to you.
Our customer service and attention to detail make the ordering and design process easier than ever. Coupled with our quick production time and RUSH options, you can have your real estate magnetic signs delivered to your door within a few days (on most orders.)