Stands - Frames - Stakes
Banner Stands; Sign Stakes and Frames; Display Systems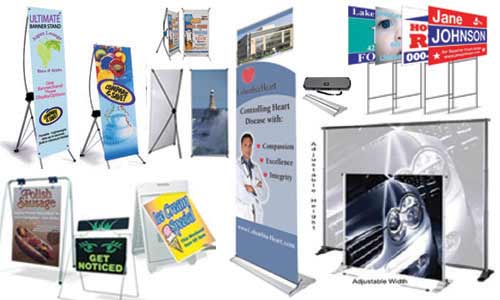 Retractable & Adjustable Banners; A-Frames/Sidewalk Signs & Stakes
Hardware to display your signs and banners.
What type of hardware do you need?
Have sign - Will travel...
Portable signage is an essential marketing necessity on so many levels. If you have a business or work in an industry that travels to various locations around the globe. Or perhaps your business is tucked away inside a quaint little shopping center and needs some recognition street-side that can be placed outside during the day and brought inside at night. Banner stands, retractable stands and A-frame/Sandwich Board signs are a great investment to help your company or business get the most bang for the buck because these banner stands can be used in small or limited space environments and can be moved easily and are portable enough to travel to wherever you may go.
For the restaurant and retail businesses portable signage can get you noticed by passer-by's or from foot traffic along the street. They can also benefit your business heavily with non-intrusive exposure that will catch the eye and generate new customers and patrons.
Another avenue of value in purchasing a portable sign is in the Trade Show and Conference industries. Trade shows and conferences are a traveling smorgasbord of advertising and marketing opportunities in constant need signage that is light-weight, easily to assemble and disassemble and that is ultimately...portable!
Transportable signs are great for:
Advertise Breakfast/Lunch/Dinner specials; Happy Hour dates & times; Store Sales or Featured Items, etc.


Directional signage to attract new clientele.

Great for trade shows, conferences, job fairs, craft fairs, farmers markets, etc.

Back drops for red carpet events, photo shoots or school dances.


Reasonably priced signage that is light weight, changeable and portable.

Purchase with a custom banner from OrangeCountySigns.com or separately.

Most banner stands come with their own carrying case for easy traveling.

Standard or heavy-duty wire stakes to mount your Yard Signs, Real Estate Signs, Political Signs, etc.

Dollar for advertising dollar, banner stands, retractable banner stands, A-frame and Sandwich Board signs are a great investment for companies on the go and for big or small business owners who need moveable and changeable signage.

For pricing and more information on our Banner Stands, A-Frame Signs or Stakes, please call our knowledgeable Sales Team today!
Call for assistance: 714-573-9313