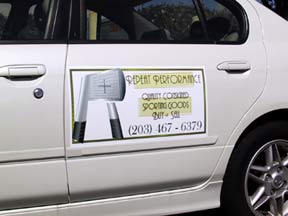 Magnetic Sign Pricing
Removable advertising for cars, trucks, vans & SUV's
100% American made durable magnetic material.
Easy to install & remove with a 3-4 year lifespan.
Lamination added for durability & UV protection.
FREE artwork review!
No artwork? Request custom graphic services!
For permanent vehicle signage, see Car Graphics.
Instant Pricing Calculator!
---
Magnetic Sign Photos

About Car Magnets

FAQ's about Magnetic Signs

Ordering Magnetic Signs
Removable and reusable vehicle advertising.
See our work
For more information on magnetic vehicle signs please call (714) 573-9313.
Car Magnets
Do you need magnetic signs for your car doors?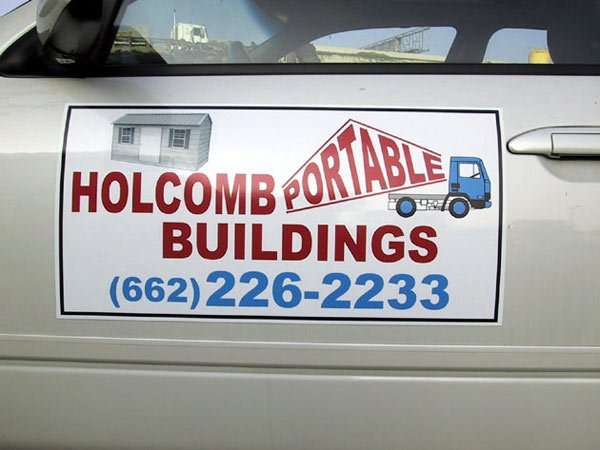 Business magnetic signs for your vehicle is one of the smartest marketing and sales advertising you can do. Think of how many miles you drive your car in a year. Now think of how many potential customers could be reading your car magnet advertising.
Not only do your magnetic signs advertise your business while driving but think of the business you'll attract while your car is parked. You'll be amazed at how many customers will be calling you simply based on the message that you put on your magnetic signs.
Home businesses:

Do you have a business on the side? Magnetic signs are perfect for the part time business person. The ability to be "in business" during the day using car door magnetics and "off business" during the evening with your car magnets tucked away in the trunk.

Temporary advertising:

Wouldn't it be nice to advertise your business whenever you need to. Temporary advertising and promotion of your product is easy convenient with magnetic signs. Easy to put on one minute easy to take off the next.

Business start up:

Not sure if the business you're thinking of will fly? Magnet signs are a cheap and easy way to test market your idea. With pricing starting at $ 66 for a pair of magnetic signs you can affordably purchase a pair and drive them around town and see what kind of response you get.

Supplemental advertising:

Where can you get adverting for less than $.40/ day. There is no better "bang for your buck" than car door magnets. For advertising value the pay back is only a few months.
Vehicle magnets are the perfect product for many businesses:
Plumbing, remodeling, home businesses, delivery services, cleaning companies, home construction and electrician, PC repair, heating and air conditioning and many more. If you have a vehicle that needs recognition, identification or advertising, magnetic car signs are a perfect match for inexpensive signage.
Frequently asked questions about our magnetic signs
Answers to your most common questions
WHAT IS A STANDARD SIZE FOR A MAGNETIC VEHICLE SIGN?
Truly there is "no" standard size. Every make and model are fairly unique and may have added features like reverse molding, raised pin-stripping, etc. We do, however, offer some popular regular sizes that we have found work for most small (10" h x 18" w), medium (11" h x 20" w) and large (12" h x 24" w) vehicles. And although you may order these basic sizes, don't forget that all our vehicle magnetic signs are custom made and can be made to any size you need not exceeding 24" in height.
WHAT IS THE ADVANTAGE OF ROUNDED CORNERS?
We have been in the magnetic sign business for 25+ years and have found that when it comes to the corner finishing, of these particular vehicle signs, that rounding the corners adds to their longevity. Square corners will eventually start to dog-ear after a few years of peeling them off of your vehicle. But, through the years, we found that slightly rounding the corners eliminates the dog-ear effect and highly recommend that option, to our customers, too extend the life of their magnetic sign. And as for aesthetics?
WHAT IS THE RISK RATIO OF HAVING A MAGNETIC SIGN FLY OFF MY VEHICLE?
If your magnetic sign is maintained and installed properly, then the risk factor of losing a magnetic sign is non-existent. However, if the magnetic sign is placed over any obstacles that will allow air underneath it's surface, then you do run the risk of losing a magnetic while on the road. First and foremost we recommend measuring your available "FLAT" surface area of your vehicle, before ordering your magnetic signs, to assure a perfect fit. Ill-fitted magnetic signs, that do not sit flush on the vehicle, can and will fly off. Maintenance is also an important key to not losing magnetic signs. Always make sure to gently clean the application area of your vehicle and the magnetic receptive side of the sign before installation, to remove any dust or debris that may have accumulated, which can cause adhesion problems and result in the loss of a magnetic sign.
HOW LONG WILL MY CUSTOM VEHICLE MAGNETIC SIGNS LAST?
Our magnetic signs have a protective laminate that helps to shield the print from the elements as well as regular wear and tear. When our magnetic signs are properly maintained and installed they have a typical longevity of 3 - 5 years, and possibly more.
WHAT IF I NEED HELP WITH MY DESIGN?
We have a very talented design staff here at Quick Signs and would definitely love to help you put together a desirable design for your magnetic signs. If you have no artwork at all, you can still order your product online, by clicking the "Order" button and choosing the "I have no artwork" option on the artwork upload page. Once you have completed your order and it is received by our sales staff, you will be contacted to assess what your sign needs to say. If you have pieces or artwork and need help putting them together, please click the "Order" button and then click either the Upload artwork option or Upload artwork later. You may choose multiple items in the upload process on the following screen. If you choose to upload your artwork later, you can upload your artwork after you place your order otherwise you will be contacted by our sales staff to ascertain the files needed to design your magnetic signs.
More Questions?
If you have any other questions, or would like more information about our magnetic signs, please give our specialists a call
(714) 573-9313.
Ordering magnetic signs online
It's as easy as 1, 2, 3
1. Get a price. Measure the available FLAT space on your vehicle where the magnetic sign will be going. Make sure to avoid ordering a magnetic sign that would cover any handles, door jams, emblems, molding or reverse molding on the vehicle. Once you know your size type the measurements in on the calculator to the right and choose a quantity and finish (square corners or rounded corners) from the pricing calculator on this page. If you are not sure if this is the right product for your needs, give us a call at 714-573-9313, we are here to help.
2. Place your order. After you get your price, click the "Order Now" button. A credit credit card is all we need to get started. We accept all major cards. Order your product with confidence as our secured servers provide the protection you need when ordering online.
3. Upload your artwork. Easy upload of your artwork. When we receive your artwork we'll open it, check the artwork for overall quality, sizing, color and compatibility. After inspection, you will receive a visual proof to finalize your order, barring any artwork issues. If there are issues with your artwork, you will be contacted immediately by our design team to resolve the issue.
Magnetic Sign Satisfaction. OrangeCountySigns.com offers the best quality vehicle magnetic signs at a competitive price. Our customer service and attention to detail make the ordering and design process easier than ever. Coupled with our quick production time and RUSH options, you can have custom magnetic signs on your vehicle in just a day or two, and reach potential new customers during your next commute.
Your digitally printed magnetic signs will ship quickly, look fantastic, and you can be sure to impress ALL of your potential customers. E-mail us or give us a call, and get your vehicle magnetic sign order started today