Table cover banners are economical and effective.
Invest in a table banner cover for your next presentation or event.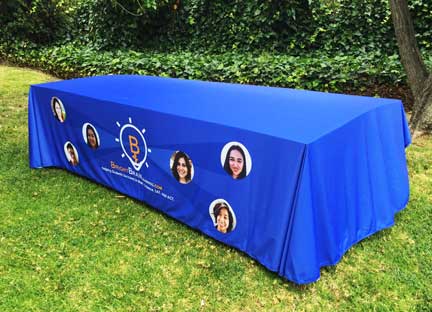 For presentations, trade shows, events and exhibits branding and identification are key elements to getting noticed. Table cover banners serve as the perfect starting point for all sorts of different displays and are very moderately priced. Table cover banners come in a variety of styles that fit into any budget. And the beauty of table cover banners is that they can be used by themselves or incorporated into a full-blown advertising or marketing presentation to up your visual appeal.
As well as being very reasonably priced, table cover banners are quick and easy to set up. Just throw the table cover banner on your table and "wallah"...you are ready to go within seconds. And since table cover banners drape over the front (and sometimes sides) of the table you can actually utilize the space under the table as an invisible storage area for pamphlets, products or personal items. Table covers are also very easy to store, and since they are made out of polyester fabric, can be washed if they become dirty.
Table banner covers also are visually more appealing than affixing a digital banner, or a laminated poster print, to the front of your table. And by investing in a table cover banner you will achieve a more professional look and feel for your companies branding, marketing and identification needs.
TABLE COVER OPTIONS AND CHOICES:
Table Runner Banner:
The cheapest and most affordable table cover banner option would be to choose a simple table runner. Table runner banners don't actually cover the full table area. Table runner banners are typically about 24 inches wide by 72" inches in length and drape over the front, top and back of the table. You can also display a table runner on the top side of table as well. Table runner banners can be used as a stand alone or in conjunction with a solid color table cover underneath creating a more elevated look.
Table Cover Banner (Open Back):
Next up is a three-sided table cover banner option. This style of table cover banner is a little more expensive in price but it gives you the opportunity to cover the front and sides of your table. Besides allowing for more information to be printed onto your table cover banner this style gives your legs a bit of privacy while also serving as a concealed storage area as described above. Open back table cover banners come in standard 6 foot and 8 foot sizes and are 100% washable.
Table Cover Banner (Closed Back):
For full table coverage you can order and table cover banner that has four sides to it. This style is great for staging tables at presentations or events where the table is utilized for showcasing products, wares or pamphlets, etc. Closed back table cover banners are a little more pricey than open back table cover banners, because there is more fabric utilized, which allows for more printable area as well. And like all our other table cover banner options is completely washable and easy to store.
Want to take your tradeshow booth or event display to the next level? Then consider purchasing a custom backdrop banner or a retractable and/or adjustable banner stand to further accentuate your visual presence.
---
Have questions about our table cover banner options or pricing, give us a call at (714) 573-9313, or visit our retail location in Orange County, California.