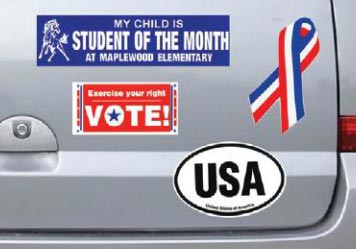 Bumper Sticker Pricing
Full color or spot color on "sticky back" vinyl.
Standard or premium vinyls (matte/glossy/clear).
Long-lasting vinyl: 3-4 year outdoors.
Any size - square, rectangular, oval or circular cut.
FREE artwork review!
Submit a design or request custom graphic services.
For custom cut bumper stickers, please request a Decal Quote.
Instant Pricing Calculator!
---
Sample Photos

About our Bumper Stickers

Bumper Sticker FAQ's

How to order Bumper Stickers
Bumper stickers for any surface
See our work
For more information on our bumperstickers please call (714) 573-9313.
They're not just for bumpers anymore!
You design it...We print it!

Just because you purchase a bumper sticker, doesn't mean it has to go on your bumper. Our bumper stickers are printed on adhesive vinyl that can stick to just about any smooth, non-porous surface.
Promotional signage:

Companies, businesses, bands, radio stations, etc.

Religious:

Make your own or pass out to the congregation and express your religious or spiritual views.

Humorous or Inspirational:

Who doesn't love a good humorous bumper sticker? And we can all benefit from an inspirational message!

Sports:

Great for showing support for your favorite local team or national franchise team.

Political:

Popular during election years. Create your own and express your political views!

SchoolS:

Mass produce bumper stickers to hand out to faculty, parents and students alike to show school spirit or applaud academic achievements.
We offer our bumper stickers with an adhesive backing and also in a "static cling" version. Choose from dozens of bumper sticker styles and colors or upload your customer bumper sticker artwork to us to print. Bumper stickers are a cost effective way to convey a message or promote a product or business.
Order 1 or order 10,000 bumper stickers...we price our bumper stickers by quantity and size and the cost per unit goes down considerably as the unit volume goes up. We can produce any size and any quantity, from personal inspirational messages to large volume corporate promotional bumper stickers. Convey your message today by purchasing custom bumper stickers from Quick Signs.
Frequently Asked Vinyl Bumper Stickers
Answers to your most common questions
WHAT IS THE DIFFERENCE BETWEEN THE TWO VINYL MATERIALS OFFERED?
The main difference between our Standard and Premium vinyl is the adhesive quality of each. Standard vinyl is great for short term usage of about 1 - 2 years; where premium vinyl is a bit more long lasting at about 3 - 4 years. Both vinyl materials are for indoor/outdoor usage.
DOES MY BUMPER STICKER NEED LAMINATION?
Lamination is offered, but not necessarily needed. The purpose of lamination is to protect the print from abrasion and the elements. Lamination will also prolong the life of your bumper sticker by at least another year or two. So depending upon your needs, be them long term or short term, you have the option to laminate or not to laminate.
IS THERE A MINIMUM ORDER QUANTITY FOR BUMPER STICKERS?
No, we do not have a minimum to print and produce bumper stickers. You can order 1 or 10,000. But bear in mind that the larger the volume the smaller the per unit price.
HOW LONG DOES IT TAKE TO PRODUCE BUMPER STICKERS?
The answer to this question lies in the amount of bumper stickers being produced. Small volume orders can be turned around in roughly 2 - 4 business days. Whereas large volume orders may take upwards of 7 - 10 business days, possible more. And keep in mind, if your order requires shipping, there will also be ship time to consider. We ship UPS Ground (please inquire about expedited shipping prices, if necessary) from our retail location in Tustin, CA to all of the United States.
WHAT IF I NEED HELP WITH DESIGN?
If you don't already have a design for your bumper sticker order, we do offer design services for a nominal fee, depending on the complexity of the design. Give us a call at (714) 573-9313 to inquire about design pricing or fill out our simple Online Quotation form and one of our sales team will contact you accordingly.
IS THERE A STANDARD BUMPER STICKER SIZE?
Yes and no. We do offer a good variety of standard sizes in rectangle, circle and oval forms (i.e. 3" x 11 1/2"; 3 3/4" x 7 1/2"; 5" circular and 4" x 6" oval) but bumper stickers can be ordered in any custom size as well.
More Questions?

If you have any other questions, or would like more information about our bumper stickers or static cling, please give our specialists a call (714) 573-9313.
Ordering bumper stickers online
It's as easy as 1, 2, 3
1. Get a price. Choose your size, quantity, grade of vinyl (standard or premium) and lastly your lamination choice (if applicable), from the pricing calculator on this page. If you are not sure if this is the right product for your needs, or have questions regarding this type of sticker, give us a call at (714) 573-9313, we are here to help.
2. Place your order. After you get your price, click the "Order Now" button. A credit credit card is all we need to get started. We accept all major cards. Order your product with confidence as our secured servers provide the protection you need when ordering online.
3. Upload your artwork. Easily upload your artwork online. When we receive your artwork, we'll open it, check the artwork - for FREE - to assess the overall quality, sizing, and color compatibility of the file. After inspection, you will either receive an email with your visual proof and pricing confirmation; or, if we have concerns about your artwork, you will be contacted by one of our design team to discuss our findings.
Bumper Sticker Satisfaction. OrangeCountySigns.com offers the best quality bumper stickers at a fraction of the competitor's prices. Our customer service and attention to detail make the ordering and design process easier than ever. Coupled with our quick production time and RUSH options, you can have your bumper stickers within a few days (most orders.)
For our non-local customers, your digitally printed decals and stickers will ship quickly, look fantastic, and arrive ready-made for instant application. E-mail us or give us a call, and get your bumper sticker order started today!