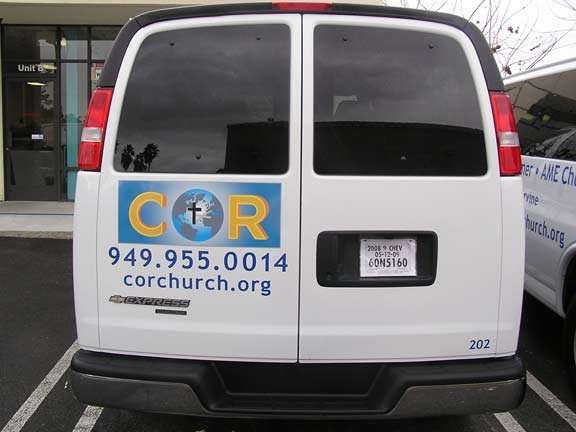 Vehicle Decals and Stickers Pricing
Square, Rectangle, Oval or Circle cut.
Custom die-cut decals and stickers also available.
White or Clear standard or premium vinyl.
Lamination options extra durability.
Install ready...for easy do-it-yourself application!
For vehicle lettering and decals,
request a Vehicle Graphics quote.
Instant Pricing Calculator!
---
Decal Styles

Examples

About Vehicle Decals

FAQ's Vehicle Decals

How to order
Decal cutting options:
Our decal pricing calculator is based on the Standard Print and Print on Clear options show belown.
Cloud Cut and Die-Cut carry additional costs...call (714) 573-9313 for custom cut pricing.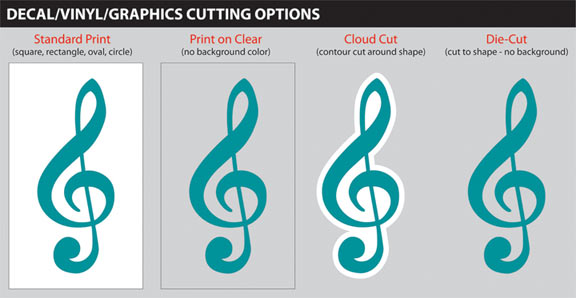 Standard Print (white background): Printed on white vinyl. Cut to simple shape (square, rectangle, oval, circle, etc.)
Print on Clear (clear background): Printed on clear vinyl. Cut to simple shape (square, rectangle, oval, circle, etc.)
Cloud Cut: Cut to the outside contours of your image leaving a thin border all the way around (clear or white vinyl)
Die-Cut: Cut to the exact shape of your decal leaving no background at all.
---
If you have any questions about custom decal cutting or supplying a vector file for die-cut decals, please give us a call at (714) 573-9313.
Or request a Custom Cut Decal Quote!
Inexpensive advertising option for vehicles.
Any size, any color, any quantity.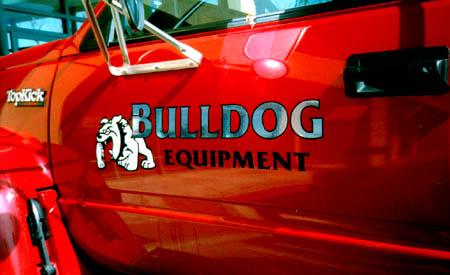 Vehicle decals and stickers are a great option for placing business identification on your vehicle without all the cost of custom graphics. Our square cut and rectangular cut vehicle decals/stickers, can be printed on white or clear vinyl, and will convey the necessary information to be seen visually while out on the street and at a great economical price.
Door Panels:

Any vehicle, any size, any quantity.

Box Trucks/Big Rigs:

Company information, DOT numbers, or "How Am I Driving" stickers.

Tailgate:

Prime advertising area on all trucks, vans and SUV's.

Hood or Trunk:

Utilize the trunk or hood of any smaller vehicle.

Bikes/Motorcycles:

Add vehicle decals to your bike...motorized or not.
Vehicle decals and stickers have an adhesive back and are more permanent than our vehicle magnetic signs. This type of signage is considered semi-permanent and is a great sign solution when you do not have custom-cut graphics to place on your vehicle, or to give a more expanded look than just cut vinyl lettering. Because vehicle decals and stickers are not cut-to-shape, you save on overall cost and can install them quickly and easily.
We price our vehicle decal stickers by quantity and size and the cost, per unit, goes down considerably as the unit volume goes up. We can produce any size and any quantity, in as little as two to three business days, depending on the overall number of vehicle decal stickers ordered (larger orders require more lead time). So whether you need vehicle decal stickers for personal or profession use, let Quick Signs help you get them printed professionally, quickly and affordably!
Frequently asked questions about our vinyl decals
Answers to your most common questions
DO I NEED STANDARD VINYL OR PREMIUM VINYL?
For vehicle decals and stickers we highly recommend choosing "Premium" vinyl. Our premium vinyl has a more aggressive adhesive and will last longer than our standard grade vinyl. Also, the premium vinyl, is a little bit thinner than the standard vinyl and has an easier time adhering to small contours in vehicle surfaces.
DOES MY DECAL STICKER NEED LAMINATION?
Lamination is always an option, and is not specifically necessary, but it is a good rule of thumb to add lamination especially to vehicle decals and stickers. Vehicles endure a lot of wear and tear from washing and the elements and adding lamination helps protect the print itself while increasing the longevity of the sign. When choosing lamination for your vehicle decal stickers, please note, that even though there are two lamination options (matte and gloss), gloss lamination is always used in conjunction with a premium vinyl choice.
WHAT IF I NEED A CUSTOM CUT ON MY VEHICLE DECAL STICKERS?
This pricing page is specifically for square and rectangular cut vehicle decal stickers. If you need a circular or oval cut on your vehicle decals, you may still use this pricing page to order, but please state that on the order form notes. If you are in need of completely custom cut (die-cut) vehicle decals, please fill out our Vehicle Lettering/Graphics Quotation form online. When filling out the short quotation form, it is always best to upload your artwork, for the most accurate pricing.
HOW LONG DOES IT TAKE TO PRODUCE VEHICLE DECAL STICKERS?
Our normal turn-around time for a standard order would be about 2 - 4 business days. Large quantity orders (upwards of 100 or more) can take a bit longer and have a lead time closer to about 5 - 7 business days. For our out-of-state customers, we ship to all areas of the United States via UPS, and can accommodate multiple ship-to locations. Please keep in mind that ship times vary between 1 to 5 or 6 business days, depending on the ship-to location.
WHAT IF I DON'T HAVE A READY FOR PRINT DESIGN?
We actually do employ a very talented design staff that create custom designs for our customers upon request. Every job is unique, so if you need some help with design, just give us a call at (714) 573-9313 and we can discuss your design needs and help you get started on printing your personalized vehicle decal stickers today!
More Questions?
If you have any other questions, or would like more information about our vehicle decal stickers, please give our specialists a call
(714) 573-9313.
Ordering vehicle decals online
It's as easy as 1, 2, 3
1. Get a price. Measure out the available space on the vehicle where you will be applying the decal/sticker and choose your size, quantity and finish from the pricing calculator on this page. If you are not sure if this is the right product for your needs, give us a call at 714-573-9313, we are here to help. Please note: The pricing calculator, on this page, is for Square or Rectangular Vinyl Decals and Stickers. If you need your decals in a custom cut shape, please fill out our short online quotation form and attach your artwork for review and pricing.
2. Place your order. After you get your price, click the "Order Now" button. A credit credit card is all we need to get started. We accept all major cards. Our secured servers provide the protection you need when ordering online.Order your product with confidence, our secured servers will provide the protection you need when ordering online.
3. Upload your artwork. Easy upload of your artwork. When we receive your artwork, we'll open it, check the artwork for overall quality, sizing, compatibility, and color. After inspection, we scale your artwork, if necessary, to fit the requested size and contact you regarding our findings.
Decal/Sticker Satisfaction. OrangeCountySigns.com offers the best quality decals and stickers at a fraction of the competitor's prices. Our customer service and attention to detail make the ordering and design process easier than ever. Coupled with our quick production time and RUSH options, you can have your bumper stickers within a few days (most orders.)
For our non-local customers, your digitally printed decals and stickers will ship quickly, look fantastic, and arrive ready-made for instant application. E-mail us or give us a call, and get your decal or sticker order started today!