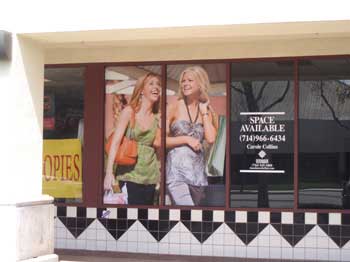 Window Decal Pricing
Digital prints on adhesive white or clear vinyl.
Pre-masked for easy application for DIY installations.
Matte or Gloss lamination finishing available.
3-4 year life expectancy on outside applications.
For custom window lettering and decals,
request a Window Graphics quote.
Also, ask about our Vinyl Application Kit for easy do-it-yourself installations.
Instant Pricing Calculator!
---
Decal Styles

Examples

About Window Decals

FAQ's Window Decals

Ordering Window Decals
Decal cutting options:
Our decal pricing calculator is based on the Standard Print and Print on Clear options show belown.
Cloud Cut and Die-Cut carry additional costs...call (714) 573-9313 for custom cut pricing.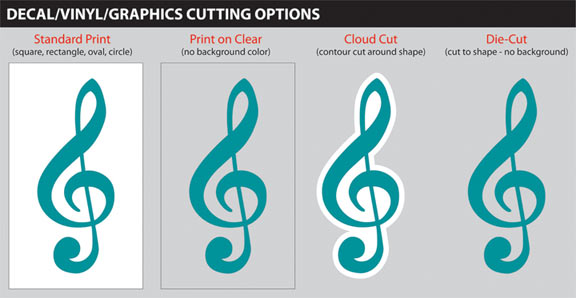 Standard Print (white background): Printed on white vinyl. Cut to simple shape (square, rectangle, oval, circle, etc.)
Print on Clear (clear background): Printed on clear vinyl. Cut to simple shape (square, rectangle, oval, circle, etc.)
Cloud Cut: Cut to the outside contours of your image leaving a thin border all the way around (clear or white vinyl)
Die-Cut: Cut to the exact shape of your decal leaving no background at all.
---
If you have any questions about custom decal cutting or supplying a vector file for die-cut decals, please give us a call at (714) 573-9313.
Or request a Custom Cut Decal Quote!
Window Decals
Get creative with window graphics.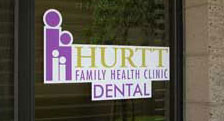 Custom printed window decals are the perfect product for identifying or advertising your business.
Our window decals are printed using fade resistant inks (up to 4 years outdoors) on high resolution printers to assure visual impact that separates your business from your competitors.
We can print our window graphics on high performance vinyl or economically grade intermediate adhesive vinyl. Our window decals can be printed any size from small decals for your front door to large full window decals that can cover your entire window.
Frequently asked questions about our window decals
Answers to your most common questions
WHAT TYPE OF VINYL IS BEST FOR WINDOW DECALS?

Standard vinyl usually does the trick as windows are a smooth, non-porous surface. You can purchase high-performance (premium) vinyl for your window decals, but it's really not necessary.
DO WINDOW DECALS NEED TO BE LAMINATED?

Window decals can go either way on lamination. As with any digital print, lamination serves as an extra protectant, against the elements and abrasion. If you are applying the decal to the outside of the window, that will endure cleaning and sun exposure, lamination would be a good idea. If you are purchasing a window decal that will be applied to the inside of the glass, that is essentially protected from the elements, then lamination is not necessary.
WHAT ARE THE SHAPE OPTIONS FOR WINDOW DECAL PRINTING?

Most decals are printed into a standard square, rectangle, circle or oval shape unless otherwise specified. If your decal needs to be cut to shape you will need to provide a proper "vector" file so that the computer die-cut around the image. If you do not have a vector file available, or are not sure what a vector file consists of, please request a quote (and upload your file for a free artwork evaluation) or call our design team for assistance.
DO YOU PRINT OVER-SIZED WINDOW DECALS?

Yes. We can print and create just about any sized window decal that you need. But keep in mind that window decals over 42" in height may need to be tiled together to create the overall image you are trying to achieve. Large window decals, should be hung much like wallpaper, to reduce any installation errors.
WHAT IS THE BEST WAY TO INSTALL A WINDOW DECAL: OUTSIDE OR INSIDE?

Window decals are easiest to install on the outside of a window, and when laminated, will last for years in the elements without fading. Inside applications can be done, but are discouraged, because most windows are tinted which can severely impact the visibility of the window decal.
More Questions?
If you have any other questions, or would like more information about our window decal stickers or graphics, please give our specialists a call
(714) 573-9313.
Ordering window decals online
It's as easy as 1, 2, 3
1. Get a price. Choose your size, quantity, grade of vinyl (standard or premium) and lastly your lamination choice (if applicable), from the pricing calculator on this page. The pricing calculator, on this page, is for Square or Rectangular Vinyl Decals and Stickers. If you need your window decals in a custom cut shape, please fill out our short Quotation Form, and submit your artwork, online for accurate pricing. If you are not sure if this is the right product for your needs, or have questions regarding window decals, give us a call toll free at (714) 573-9313, we are here to help.
2. Place your order. After you get your price, click the "Order Now" button. A credit credit card is all we need to get started. We accept all major cards. Order your product with confidence as our secured servers provide the protection you need when ordering online.
3. Upload your artwork. Easily upload your artwork online. When we receive your artwork, we'll open it, check the artwork - for FREE - to assess the overall quality, sizing, and color compatibility of the file. After inspection, you will either receive an email with your visual proof and pricing confirmation; or, if we have concerns about your artwork, you will be contacted by one of our design team to discuss our findings.
Window Decals/Stickers Satisfaction. OrangeCountySigns.com offers the highest quality window decals and stickers at a fraction of the competitor's prices. Our customer service and attention to detail makes the ordering and design process easier than ever. Coupled with our quick production time and RUSH options, you can have your vinyl window graphics within a few days (most orders.)
For our non-local customers, your digitally printed window decals and stickers will ship quickly, look fantastic, and arrive ready-made for instant application. E-mail us or give us a call, and get your window graphics order started today!