Vehicle Graphics. About mobile branding?
Vehicle graphics options for personal and business advertising.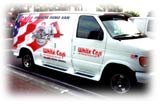 When the decision is made to start utilizing your vehicle for mobile advertising you have many options and choices to suit your budget and needs. From little start up companies to large corporate companies, vehicle graphics are the perfect investment, to generate business while you are conducting business.

Actually, vehicle graphics can still generate activity when your vehicle is idle also, because even when your car is parked it is still being seen and noticed which could lead to new business. So what exactly are your vehicle graphic choices?
Magnetic Signs:
Magnetic signs are one of the cheapest forms of mobile advertising and are great when you want removable vehicle graphics. Magnetic signs are very affordable and can be purchased for one vehicle or fleets. The biggest asset of this form of vehicle graphics is that it is not permanent. You can remove the graphic advertisement at the end of the day and use the vehicle for personal affairs. Also, since alot of vehicles are leased these days, you don't have to worry about removing any permanent graphics before turning the vehicle in. Another great feature of magnetic signs is that they can be ordered to custom sizes to fit your vehicle perfectly. This is especially helpful for truck tailgate areas and rear doors on vans and SUV's.
Vehicle Lettering:
When lettering a vehicle, the cost is determined by the amount of lettering, that will be on the vehicle. If you are just advertising a single website name then your overall cost would be low. If you needed various lines of lettering, all around the vehicle, to display more in depth information and services then the cost goes up because of the lettering count. Vehicle lettering is priced by total number of characters and the height of the characters. Vehicle lettering is a great choice for simple text only graphics, especially on back windows, that is still cost effective and gets the message across without any digital graphics.
Vehicle Decals:
When you are looking to incorporate permanent digital graphics and lettering together, vehicle decals, are the perfect choice for branding and advertising on your car, truck, van, SUV, etc. Vehicle decals can be printed digitally and adhered to your vehicle in the form of a sticker that is printed on white or clear vinyl material without any custom cut; or as a die cut decal that is cut-out to the shape of your logo and lettering. Vehicle decal pricing can be very cost effective for simple sticker decals. But when your decal is cut-to-shape, the pricing goes up, depending on the size and complexity of the custom cut. But essentially, both forms of digital vehicle decals, can be made to fit into any budget.
Vehicle Wrap:
A vehicle wrap is the most expensive form of vehicle graphics on the market today. Vehicle wraps literally encase the whole body of the vehicle, with custom digitally printed graphics, to transform your vehicle into a mobile billboard without having to paint the vehicle. Vehicle wraps cost more because of the amount of material used to cover the entire vehicle, instead of just printing and placing vehicle decals, that only cover portions of the car. Some vehicle wraps also incorporate complete window coverage as well, which requires a special perforated vinyl material called VisionFilm, which allows for digital graphics to be applied to a window while still being able to see through the window and drive the vehicle legally. VisionFilm see-through window graphics, can be purchased without full vehicle graphics, to just wrap the window area itself with a full color digital print.
PRODUCTS FEATURED IN THIS ARTICLE:
Car Wraps
Complete vehicle coverage

Digital Graphics
Lettering and Graphics

Vinyl Letters
Letters for simple text only

Magnetic Signs


Vehicle door magnets

See-thru VisionFilm
Perforated window graphics