Paper labels or Vinyl labels...which do you choose?
Choosing the right medium for custom labels....Paper vs. Vinyl.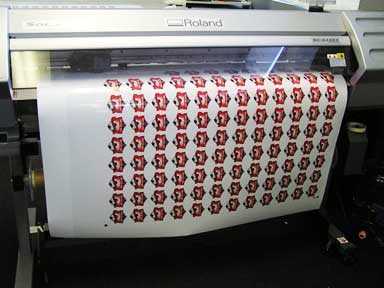 In the print industry there are a few different terminologies, used when people are ordering adhesive backed products, to describe what they need: Decals, Labels and Stickers. Technically they are pretty much the same product except for the type of medium (stock) they are printed on. All three products can be printed on either paper or vinyl, but for some reason, decals and stickers tend to lean more toward vinyl printing; whereas, labels tend to sway more in the paper direction. Both options are very affordable, but before you order, it's best to figure out which medium will best suit your needs...paper or vinyl.
PAPER LABELS:
Choosing paper as your medium is the best when your labels "do not" need to be weather proof or weather resistant. Paper labels are the most economical choice, monetarily speaking, but are not meant for any heavy duty use. Paper labels are great for branding or packaging materials and can be adhered to most non-porous surfaces without a hitch. Paper label printing usually has a print minimum, sometimes starting as low as 100-500 pieces, but is very cost-effective for large labeling projects. For our paper label pricing, please give us a call, or request an online quote.
VINYL LABELS:
Do you need a durable, outdoor or weatherproof label? Then vinyl is your medium choice. Vinyl is a non-paper product that, with or without lamination, can last in the elements or in harsh conditions. Adhesive vinyl labels are great for bumper-stickers, or other decal and sticker projects, that need to last longer than the typical paper label. Vinyl labels are stronger, and can be ordered at smaller minimums, making them a bit more desirable in relation to their price. Ultimately, vinyl labels may cost a bit more, but you will definitely get your money's worth in longevity. For instant online vinyl label pricing, please see our Custom Label pricing page.
At the end of the day, choosing your decal, sticker or label medium (a.k.a. stock), comes down to answering a few questions: How long does the label need to last; Does the label need to be weather proof; and how many labels do you need. For short-term decals, in high amounts, paper labels are best. For long-term decals, in smaller amounts, it's vinyl labels all the way! Both stock choices will definitely get your product noticed and be money well spent for your marketing or personal project endeavors!