3-D Graphics: Give your marketing some depth!
3-D letters and signs for interior and exterior branding.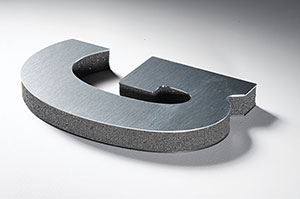 Dimensional lettering and logos are seen both indoors and outdoors at many large companies, as well as small companies, in lobbies, boardrooms or outdoors for building identification. Dimensional signage adds depth to standard company logos and graphics, thus elevating your marketing efforts, through visual branding in three different mediums: Metal lettering, Plastic Lettering and Foam Lettering. These three forms of dimensional signage, all have a great variety of standard and custom options, which are tailored to fit your needs and work within your sign and marketing budgets.
Dimensional lettering is a very visually pleasing and alluring type of signage, that can bring depth and beauty, to your interior or exterior identification or decorational needs. When making the choice to purchase 3-D letters and graphics keep in mind that no matter your budget, whether it be limited or extremely extravagant, there are a plethora of options to get the custom look you desire at the right price.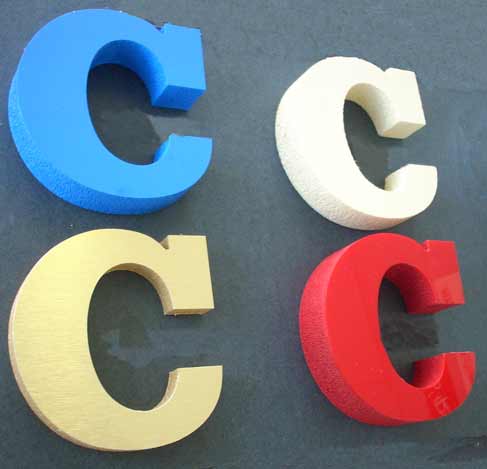 This type of dimensional lettering is the cheapest by far, in comparison with the other lettering choices, but is the best option when you are on a budget. Foam letters come in three different styles and can actually be created to look just like plastic or metal letters without the added cost (or weight.) Our interior foam letters can be painted to just about any custom or standard color with face laminate options. Our standard outdoor foam letters have painted or laminated faces but can be used indoors and outdoors. And our exterior foam letters are produced using high density urethane foam with painted coatings and coverings for extended use in outdoor environments. With many different interior and exterior mounting options, foam lettering, will give you great depth and affordable prices.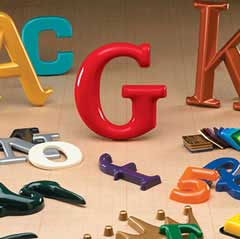 The next step up from foam lettering is plastic lettering. This form of lettering is very cost effective, in comparison with costlier metal letters, and can give you a metal look without the cost and includes amazing color and lettering choices. Plastic letters come in various heights, widths, depths, colors and fonts. Plastic letters are light weight, just like foam letters, and can be solid, molded or injection-molded to create different custom looks with dimension. Plastic letters afford you three different style options: flat cut letters that are precision laser cut out of solid colored plastic sheets (or clear acrylic and painted a custom color); formed plastic letters (hollow backed) that come in a variety of standard molded styles and sizes or can be customized; and injection-molded Minnesota letters, which are also hollow backed but can achieve more depth than formed plastic, that are pre-made and ready to order in a variety of colors and standard fonts.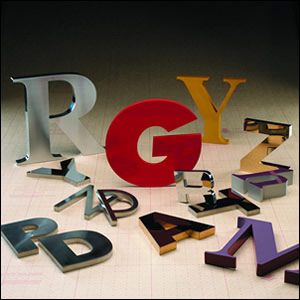 This form of lettering, while very elegant, is the most expensive of all dimensional signage. Metal letters are also heavier than their plastic letter and foam letter cousins. When budget is not a concern, authentic metal letters, are a beautiful extension of any company logo or graphics that you'd like to give depth too. Metal letters come in a variety of finishes and can be painted (depending on your metal choice.) Metal letters are also offered in a variety of standard fonts, but can be customized, with the submission of proper vector files. You can choose solid flat cut lettering, cast metal lettering or fabricated metal lettering to achieve your desired look and depth. We offer 5 different metal choices: Aluminum, Brass, Bronze, Copper and Stainless Steel with over 30 standard finish options and 45 standard paint colors that are guaranteed for the life of the sign at it's original installed location.