Clear vinyl decals for the budget-minded.
Clear vinyl decals save you money and look great.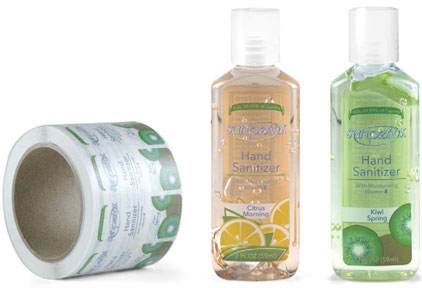 Typically decals are printed on white vinyl material and can either be applied "as is" with the white background or "cut-to-shape" to eliminate having a white background so that just the graphics or lettering are visible. A standard decal print on white is the cheapest route, but your stuck with the white background; while cutting a decal to shape incurs extra costs, depending on the intricacy of the cut, to eliminate the white background. That's where clear vinyl decals come to the rescue...by offering an inexpensive printing solution that technically has no background color and doesn't need to be cut to shape!
Clear vinyl decals are produced by printing spot colors or process colors onto adhesive translucent vinyl material. When clear vinyl decals are printed, images and text will have color, but the background won't. This allows the clear vinyl printed decal to be placed on any smooth non-porous surface giving off the appearance that it was directly printed onto the surface itself.
When purchasing clear vinyl decals you won't need any special contour cutting, because there is no background color, so your price stays fairly low and manageable. Custom contour cutting can get super pricey, depending on the detail of the graphics, and is sometimes darn near impossible.
Standard square, oval, rectangular or circle cut clear vinyl decals are easy to print and produce using just about any type of artwork. Cut-to-shape decals however need certain file formats to be able to print and cut the file successfully. And again, are much pricier because more time will be spent printing, cutting and weeding away the background parts of the print that are unwanted.
Are Clear Vinyl Decals the Right Choice for your Project?
Clear vinyl decals are a great and economical choice when you don't necessarily need to have your decals cut-to-shape. But here are a few key things to consider before purchasing clear vinyl decals.
1 | Surface Color
Since the clear vinyl decal will have no background color differentiating the decal from the surface you'll need to consider how that will affect the colors of your decal graphics. Dark surfaces will darken all the graphic colors because they are in essence somewhat transparent themselves. The exception to the rule here is white ink printing...which leads us onto the next subject:
2 | Artwork Colors
If your artwork has a lot of dark colors and will be placed on a dark surface, then simply outlining the dark areas with white, will brighten up the artwork enough to place on a dark surface. Another option is making all the text and/or graphics white in color. White ink on dark surfaces shows up the best and is very popular for car window decals.
If your surface colors and artwork colors are compatible, you should be able to use clear vinyl decals effectively and at a great price, without having to print on a white background or have your decals cut to shape to eliminate a white background. Here are some popular clear vinyl products that we currently offer to our customers:
For more information about our clear vinyl decals, white ink decals, or decal printing and pricing in general...give our friendly staff a call today at (866) 267-4467.