Pantone (PMS) helps with color matching.
Utilizing Pantone colors to get a good color match with CMYK printing.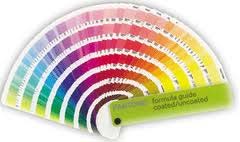 When it comes to digital printing it's hard to obtain an exact color match unless you utilize a color matching system. The reason for this is that most all digital files display differently on a computer screen compared to when they actually print. Computer screen calibrations also vary from computer to computer, with most utilizing a RGB color mode, which doesn't translate well when digital printing is done on a CMYK color scale. So if you have any specific color matching needs for digitally printed decals, banners, posters, vehicle graphics, etc. you'll need to know a little about the Pantone Matching System and PMS colors.
The PMS (Pantone Matching System) color guide is widely used among the print industry to more accurately match specific colors. Invented in the 1950's, the PMS color matching guide, is a propriety color space matching book that consists of color swatches that serve as a guide to matching specific pigments of color. The PMS is widely used by graphic designs to achieve "color matching" specific colors when a design enters print stage. Since PMS is a set breakdown color that can easily be broken down into a CMYK format, regardless of the equipment used to produce the color, sign companies and print shops are easily able to match all sorts of colors almost exactly.
PMS colors are specifically set up for CMYK printing and are the same across the board. This consistency makes it easy to re-create the same color universally so that different manufacturers at different locations can create the same color without any communication needed. PMS colors can be interpreted into the CMYK color system which consists four colors: Cyan, Magenta, Yellow and Black. All PMS colors are identified by a specific number (for example PMS 112). When a PMS color is specified for a color match on a digitally printed job the printer simply refers to their PMS book and can then match that specific color to their printing system, respectively.
So if your digitally printed sign needs require specific colors it is a good thing to consult a PMS color book before designing your artwork or having it designed by a professional graphic designer. Designing your artwork in CMYK, without utilzing PMS colors, may not result in a color matched print and possibly may not even look close to the color that was displayed on your screen. PMS color books can be purchased online, although sometimes you can find free color lists online as well. But remember that it's always best to consult the swatches in a PMS color book to achieve the most true and accurate color matching possible.
---
Have questions about PMS color matching or digitally printed colors in general, give us a call at (714) 573-9313, or visit our retail location in Orange County, California.