Over-the-street banners have rules to follow.
Things to know before ordering an over-the-street banner.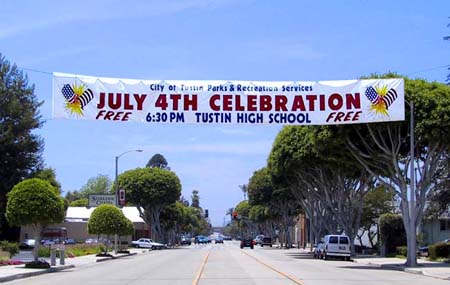 Over-the-street banners are extra large banners that extend between two unattached structures. Over-the-street banners, otherwise known as street banners or road banners, almost always have to meet certain rules and regulations though. Since this style of banner is installed over areas where people will be walking or driving they must meet certain safety requirements before being hung for display. Specifications on how street banners must be manufactured vary from city to city; so it's always a good idea to check with your local city planning or zoning department to get the information necessary to purchase an over-the-street banner.
Street banners have to be ordered with specific finishing options. Standard digital banners or extra large digital banners don't have to adhere to any special codes because they are typically hung from buildings, fences or other structures that don't require any particular requirements. But since over-the-street banners are hung over areas that could potentially cause physical harm or property damage, if they were to fall, they have to be manufactured following certain guidelines.
MOST COMMON OVER-THE-STREET BANNER SPECIFICATIONS:
As stated above, over-the-street banner specifications and regulations will vary by city, so it's best to call and request street banner requirements or visit your local city planning department to obtain printed instructions. (See example: The picture to the right is from the City of Orange giving clear specifications as to how an over-the-street banner must be made to be hung in their city limits.)
Vinyl Banner Material:
Most standard vinyl banners and/or extra large digital banners are printed onto 10 oz. or 13 oz. material. But since street banners will be above traffic, or pedestrian thoroughfares, most city ordinances require that the banner material be a bit heavier for strength purposes. Considering that street banners span a large distance and are hung above areas where they can sway, a heavier vinyl banner material makes them more durable, for the conditions they will be enduring.
Sewn-in Rope:
Sewn-in rope is almost always a definite requirement for over-the-street banner production. Since the banner itself is hung between two free-standing pillars, poles or objects it will need to be tied off on all four side to secure the banner safely. Sewn-in rope is hemmed into the top and bottom of the banner with excess rope usually extending about 25 feet from each corner of the banner. Check with your city to find out how much rope will need to extend from the banner in your area.
Reinforced Corners:
The location of over-the-street banners makes the banner edges more susceptible to stress because of the weight of the banner and the windier conditions they endure. Reinforced corners add another level of protection to the edges of the banner with extra fabric and stitching. The reinforced corners make it harder for the corner grommets to rip out making the banner safer and more durable.
Snap Hooks:
Depending on your area you may be installing the banner with all four ends tied off to opposing structure or there may already be a cable or rope system in place that your street banner will hang from. If there is already a predesignated cable or rope system in place, then you may be required to purchase snap hooks to attach your banner to that system. Snap hooks can either thread through the grommets (brass eyelets for hanging banners) and clipped onto the hanging apparatus system; or your city might require that the snap hooks be sewn into the banner with webbing. Snap hooks attach onto the wire, cable or rope where the banner will be hung helping to distribute the weight of the banner more efficiently.
Wind Slits:
This is yet another regulation that varies from city to city when it comes to over-the-street banners. Wind slits are semi-circles that are cut into the vinyl banner material allowing more air to pass through the banner with less resistance. The only down-side of outfitting an over-the-street banner with wind slits is that by cutting into the material you actually compromise the banner itself. The edges of the wind slits could start to fray or rip eventually, thus destroying your banner. If your specific city doesn't require wind slits then it's best to leave the banner intact.
---
Have questions about over-the-street banners or pricing, give us a call at (714) 573-9313, or visit our retail location in Orange County, California.