PVC signs for countertop displays.
Lightweight and affordable custom PVC desk top signs.
SIGN SPOTLIGHT!
PVC material is such a very versatile substrate that can be used for large signs as well as small signs. In the picture to the left you can see a custom PVC sign for counter top displays. This particular sign includes a digital decal mounted to the face of a white 3 mil PVC substrate. Once the print is applied, a special device is used, to create the bend in the PVC material so that the sign will stand flat on countertop and desk surfaces. These crafty PVC signs are great for office advertising and marketing as well as for trade shows or exhibits. Custom PVC desktop signs are also great for nameplates, instructional signs (i.e. ring bell for assistance, insurance co-pays due at time of service, etc.)
Besides PVC signs make a great substrate for countertop signs and desk top signs they can be used for all sorts of different signage in and around the office as well including...
DOUBLE-SIDED HANGING PVC SIGN
For a lightweight sign that can utilize both sides of the material, PVC makes a great choice for hanging office signage. Digital prints or cut vinyl can be applied to either side of the PVC with holes drilled in the top to hang from the ceiling. This type of PVC sign is affordable, sturdy and will last a long time indoors. If hanging isn't an option this sign could be created to be single-sided for a wall mount with screws, stand-offs or double-sided tape.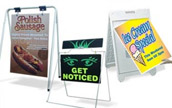 PVC A-FRAME SIGN INSERTS
A-frame signs (also known as sandwich board signs or sidewalk signs) can also utilize the versatility of a PVC substrate for advertising, marketing and brand. PVC can be used to create custom a-frame sign inserts that are more durable and long lasting in comparison to coroplast (corrugated plastic) sign inserts. A-frame inserts either slide into slots in the a-frame sign or have holes drilled for hanging from a-frame signs.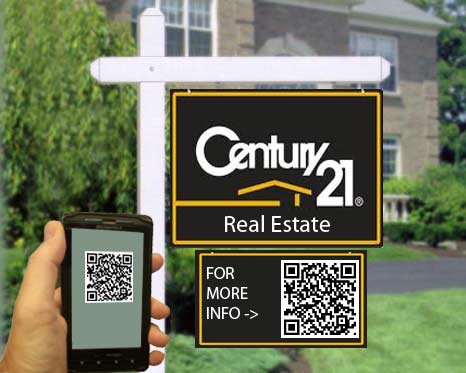 REAL ESTATE SIGNS
Since PVC is a very sturdy and semi weather-resistant the real estate industry utilizes it for all sorts of real estate signs. Real estate PVC signs can hang from an "L-shaped" post (as pictured to the left) or can slide into metal frames with stakes for a more industrial strength yard sign. PVC signs can also have holes drilled and be mounted to stakes or poles for limited outdoor use as well.
---
Have questions about PVC desktop signs or other PVC sign products, please give us a call at (714) 573-9313. You may also request an online quote and be contacted by one of our sales representatives for a complimentary consultation and pricing.