Corrugated Plastic Signs (Coroplast)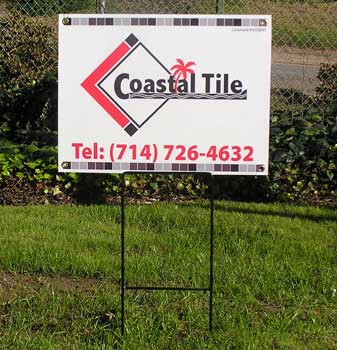 Inexpensive and versatile signage
Great for mobile advertising and temporary events.
Corrugated Plastic signs (Coroplast) are widely used in the sign industry for a variety of purposes because they are cheap, portable, durable, water proof and lightweight. Coroplast material is the industry standard for most all yard signs produced today which have proven to be effective sales tools because of their high visibility in the public sector.

Call (714) 573-9313 for a Coroplast Sign phone quote!

Coroplast material is made from an extremely versatile extruded twin wall polypropylene sheet. Coroplast signs are mainly mounted on wire stakes that slide into the signs fluted area between the flat front and back surfaces, but can also be affixed with velcro and double-sided tape or hung, when brass grommets are punched through the material.
We currently stock three different thicknesses of coroplast for our corrugated signs...4mm, 6mm and 10mm. Coroplast signs can be single-sided or double-sided to be seen in both directions. Coroplast sheets of material are able to be cut to any size and can also be customized and cut to shapes (arrow, circular, oval, etc.)
Some different uses for Coroplast Signs are:
Events and Promotions

- Perfect for placing around town to promote special events in the area.

Yard Signs

- For business or personal use, coroplast yard signs are a great buy and can be used over and over in your front yard or on a job site.

Directional

- Point the way to events or places or have your coroplast sign cut into the shape of an arrow and add handles to create a spinner to be manually held for advertising on street corners.

Real Estate

- Make yard signs or coroplast signs for hanging to display at properties for rent, sale or lease.

Point of Purchase signs

- Perfect for retail locations at check-out or around the store advertising sales, specials or new products.

Political Campaign Signs

- Show your support with custom political yard signs during Presidential elections, Congressional elections, local elections and ballot measures.
For more information on our Corrugated Plastic Signs, give our sign specialists a call.
Local: 714-573-9313
or
Toll free: 866-267-4467