Magnetic Signs. Effective Business Marketing
Marketing Magnetic Signs to Market Local Businesses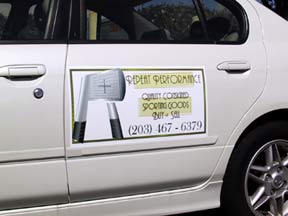 Marketing is the one of the central pillars of any successful business and is often the reason a business will either succeed or fail based on how this important exercise is conducted.

Marketing magnetic signs often involves some form of engagement with the public in a bid to begin a conversation that may hopefully lead to conversion of the person being engaged into a paying customer.
One of the ways businesses expedite the marketing process is by using vehicle signage, such as magnetic signs.
One such technology used to apply this signage is magnetic signs. This means that one of the most obvious benefits of using magnetic signs is that the sign will not interfere with the vehicles paint and that application and removal is both easy and damage free, unlike adhesive-based signs. The marketing benefits of using magnetic signs are fairly diverse. Here are some of the most important marketing benefits of using magnetic signs:
Mobility
Vehicle magnets offer one of the most unique benefits of using magnetic signs and that is mobility. The biggest challenge with storefront signage and other forms of static signage is that the people who will possibly see the sign are limited to those who will pass by where the sign is situated. On the other hand, when a magnetic sign is on a vehicle that is moving around, this reach increases exponentially, probably proportionally to the distance the vehicle travels. This is of course one of the marketing benefits of using magnetic signs that would best suite a local business that seeks to serve a client base in a somewhat wider geographical area.
Visibility
Businesses rely heavily on visibility in order to upstage any competition in the proximal vicinity. Using magnetic vehicle signs therefore makes for a good opportunity for local businesses to enhance their competitive advantage through an augmented visibility. This is one of the marketing benefits of using magnetic signs that challenges the competition directly as driving the vehicle in areas served by competitors will offer the business an opportunity to acquire some of the competition's customers. This visibility will also ensure that that business utilizing the magnetic signs maximizes its opportunity marketing for those instances when a potential customer sees the sign at the very moment they may be looking for a similar business.
Identity
Another one of the benefits of using magnetic signs has to do with identity or branding. Any business that wants to come across as professional and experienced must engage in a branding exercise. Branding often drives engagement in ways most businesses do not appreciate and getting a well-done magnetic vehicle sign will portray the image of professionalism and competency, two things that any business that wants to drive conversions must work hard to achieve and exude.
These benefits of using magnetic signs are by no means exhaustive but seek to demonstrate the obvious advantages of using magnetic vehicle signs. Marketing is an important exercise and businesses must take steps to make sure their marketing campaigns are having the desired effects of driving quantifiable conversions.