Outdoor signs for weatherproof advertising
Outdoor Signage: 4 most popular choices for exterior advertising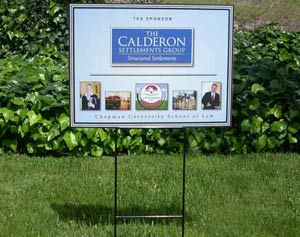 Outdoor advertising is a great sales tool for just about any company out there that has a product or service to sell. Outdoor signs are also essential tools for identification when your business is a little land-locked. With that being said, outdoor signs, need to be able to withstand the elements as well as look good.

Choosing outdoor signage is pretty easy once you figure out what type of sign you want and how long you will need it to last. We have outdoor sign options to fit any budget and sign need for short term or long term use. This article will showcase 4 of our most popular outdoor sign options, that are completely weatherproof and can stand up to most all normal weather conditions....sun, wind, rain, snow, etc.
These short-term corrugated plastic signs are great for just about any use. Yard signs can be used for business or pleasure and are very effective marketing tools as well. Yard signs also make great directional signs as well. The corrugated plastic sign material is essentially cardboard on steroids! The fluted nature of the material allows the sign to be displayed with economical wire stakes that stick into the ground. Yard signs offer single-sided or double-sided advertising, accommodating prints on each side of the material, thus increasing your marketing impact. Yard signs are also lightweight and portable. This outdoor sign choice is best suited for temporary use, but can be used long term, if cared for properly.
These versatile fabric banners can be used indoors or outdoors and offer 360 degrees of visibility. Flag banners are made of a very lightweight polyester material that is color receptive to print on. Flag banners can be single-sided or double-sided with opposing images. The banner itself slides easily onto a pole system for display. Flag banners have three different base options, two of which, are geared for outdoor usage. The stake base sticks directly into the ground; whereas the stand base sits on the ground, and can be used indoors as well as outdoors, in conjunction with a water tube. These creative and flashy banners will look great while also lasting for years in most normal weather conditions.
A-Frame signs are an alternative to yard signs when you don't have a lawn to display them in. A-frame signs (a.ka. Sandwich Board Signs) are super versatile and very outdoor friendly. A-frame signs have aluminum or plastic bases that are made to withstand normal element environments and can be left outdoors for long periods of time. A-frame signs utilize PVC or corrugated plastic inserts that can have full color digital prints or adhesive cut vinyl applied to the front and back of the material for single-sided or double-sided advertising and promotions. A-frame signs are very lightweight and portable as well as economical. These outdoor signs are a great buy because they can accommodate interchangeable inserts, so that you can continually change up your signage, without having to purchase multiple sign holders.
Vinyl banners come in a variety of different sizes and styles and can bridge the gap of indoor and outdoor advertising. Digitally printed outdoor banners can be pre-printed or custom designed to fit your needs and hung outdoors for years and years. We offer a few different options for standard banners depending on the length of time the banner will be outdoors. For short term outdoor use we suggest our QS-XLT regular banner, which is very economical priced, for outdoor use under 3 months. For more long-term outdoor use, we suggest our Non-Rip vinyl banner, which is better suited for long term exposure to the elements. For any banners, that are larger than 52" in height, our rugged Dura-Tuff outdoor banner is the best choice! For areas that get more than their fair share of wind, we also carry Mesh Banners that are printed on perforated vinyl material.