Blank Magnetic Signs to the rescue!
Blank magnetic signs for temporary cover-ups of permanent signage.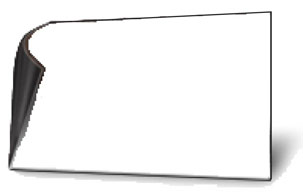 So you've invested in branding your personal vehicle with permanent graphics for mobile advertising. You've transformed your vehicle into a moving billboard that works for you while you work and while you rest.

When at rest, depending on your parking situation, your vehicle may be housed in a covered garage, parking structure, on the street or in your driveway. Normally parking a vehicle with signage anywhere is not a problem, but are some exceptions to that rule, and if you don't cover your graphics you can get fined or asked to move the vehicle to a neutral location that is more lenient with vehicle graphics. So how do you combat this dilemma? The answer lies within purchasing blank magnetic signs.
Blank magnetic material comes on 50 yard rolls and has a white surface area that usually has printed graphics of some sort applied to the face of the material. But when you need the material only, without graphics for permanent vehicle graphic cover-ups, the material can simply be cut to the necessary dimensions to be placed over the underlying graphics. Purchasing blank magnetic signs is fairly cheap, in comparison to the money spent, on putting custom graphics on the vehicle to begin with and will help comply with any "No Visible Signage" restrictions that your branded vehicle may encounter. We offer three blank magnetic sign choices to assist with our customer's "cover up" needs.
1. Blank Magnetic Material:
This first option is the most straight-forward way to order blank magnetic signs. The 50 yard rolls measure 24" in height and can be ordered to any length necessary (i.e. 24" h x 96" w). The customer can purchase the blank material, in a sheet-like form, and then cut the material down to the sizes they need for the cover-up. This is the least expensive route to go with purchasing blank magnetic signs, because there is no labor involved on our end, in cutting the material to the various sizes you will need to place over the graphics on your vehicle.
2. Cut-To-Size Blank Magnetic Signs:
This is by far the most popular method of custom cover-up signage. When ordering blank magnetic signs you can request specific sizes and we will cut them to size for you. Ordering pre-cut blank magnetic signs requires measuring the areas that require the cover-up, but once you receive your signs you can just pop them on and go and not have to worry about measuring and cutting them to size yourself. We do offer some standard sizes on our blank magnetic signs (10" x 18"; 11" x 20"; and 12" x 24") but essentially we can cut the magnetic material to any size you need.
3. Colored Blank Magnetic Signs:
This form of cover-up signage is slowly becoming more popular because it gives your blank signs some color instead of the stark white of just the material alone. To achieve a colored face on the magnetic sign the customer can pick a standard vinyl color (Black, Blue, Red, etc.) which can be cut to the size of the magnetic sign and applied to the face of the material. Coloring the face of the magnetic material, while aesthetically more pleasing to the eye, incurs a higher cost because you are actually paying for the standard vinyl to cover the face of the sign as well as the sign material itself.