Decals: Determining the shape of your decal.
How do your custom decals and stickers need to be cut?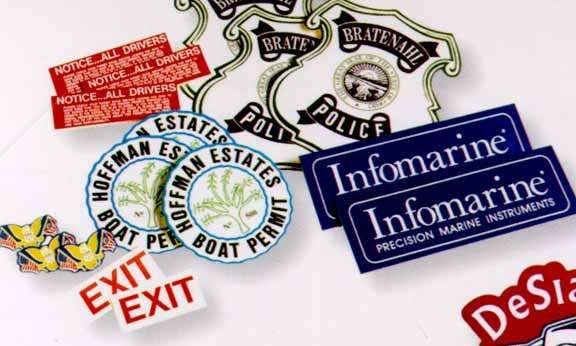 When ordering custom decals online there are some basic guidelines to follow to get accurate pricing. The sticker size, vinyl material type, lamination choice and the cut or shape of the decal are all factored into the price. Determining the shape of a decal is directly related to the look you are trying to achieve. There are three basic types of finishing options when it comes to the cut of your decal....Standard cut (round, rectangle, square, or oval), Cloud (contour cut outside of print area) and Custom die cut to any type of pattern.
Most sign companies that offer digital decals or cut vinyl decals will not charge for a standard cut. Cloud and custom cutting, however, will usually incur an up-charge depending on the complexity of the cut. So before you order decals online, take into consideration the type of cut you'll need, to achieve the look you desire.
STANDARD CUT (Square or Rectangular)
This is by far the easiest decal shape to produce and price. Standard cut decals don't incur any extra charges because there is no need to set up or format a file with special cut lines to achieve a custom cut. This type of cut is the least expensive and very popular for bumper stickers and promotional stickers, labels or decals. Standard cut decals and stickers will either be printed on white or clear vinyl.
SIMPLE CUT (Oval, Circular or Cloud)
Simple cuts are another fairly easy decal shape to achieve. This type of cut requires some simple formatting to create a shape for the computer to cut after the decal is digitally printed. Most sign companies don't charge that much extra to cut decals to an oval or circular shape. Cloud cuts, though still considered a simple cut, can be a little more complex and sometimes incur a slight set-up fee if the cut line needs to be created by a design department to contour around the images and lettering.
CUT TO SHAPE (Die-cut or Computer Cut)
This shape is the most expensive because it requires the file to have special formatting to be able to individually cut around all images, shapes and lettering. Cutting a decal to shape is a very clean look for applying custom graphics to walls, vehicles, windows and more. Die-cut decals range from simple cut vinyl lettering to intricate vehicle graphics and are priced according to the complexity of the cut. A decal quote request with artwork is the most accurate way to get pricing for custom cut decals.
Ordering decals online is a lot easier when you know exactly the look you are striving for and the terminology to describe that look. As you can see, by the pictures above, the finished shape of decal greatly impacts how your graphics will look when applied to their respective surface. When a solid white background isn't a problem, a Standard Cut or Simple Cut, are very cost effective to fit any budget. When your graphics need to be displayed on a surface without a background color, then a cut-to-shape decal is what you'll need, to create a completely custom look without the hassle or cost of permanent paint job.