Five Popular Trade Show Banners & Signs
Banners and signs that make you look good!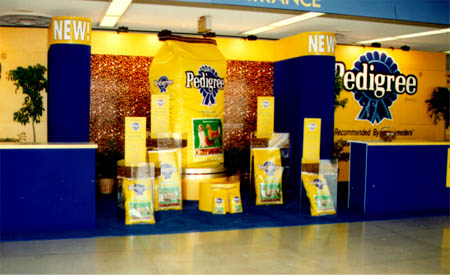 Trade shows, conventions and expo's take place all over the globe throughout the year geared towards all different sorts of events, interests and organizations. And the key to executing a successful presentation at these types of gatherings is to have a great looking booth. Trade show banners and trade show signs can greatly enhance your appearance and thus garner more exposure or interest in your product or organization. There are lots of different trade show banners and trade show signs out on the market that run the gamut from small table-top banners to extra large trade-show backdrop banners.
The five most popular trade show banners and signs listed below can all be used in conjuction with one another or as stand alone signs depending on your trade show sign needs and trade show banner and sign budget.
Trade Show Table Banners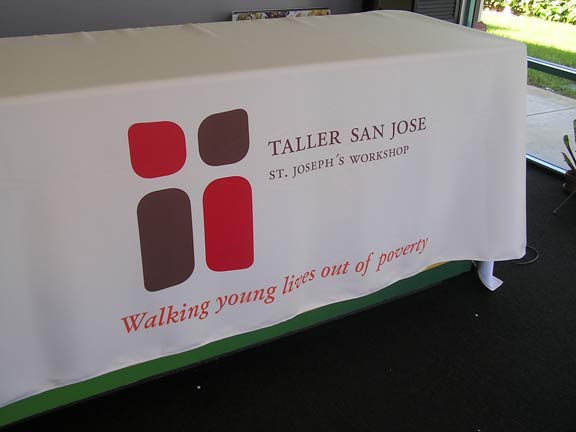 Trade show table banner covers are usually made from a sturdy fabric material with graphics or logos printed onto the fabric through a process called die-sublimation. Trade show table banner covers look professional and can completely blanket your table or just certain portions. Trade show table banners can also serve a dual purpose by providing an area for storage underneath the table when products or equipment need to be out of view. Trade show table banners are usually made to fit most standard 6 foot and 8 foot tables, but can also be custom made to fit any size table.
Trade Show Retractable Banner and Stand Combos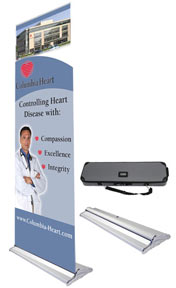 Retractable banners are practically a staple for anybody in the trade show business. These handy banner and stand combos are easy to trasnport from trade show to trade show and can be set up in mere seconds. You simply pull up the banner, screw in a support pole behind the digitally printed banner, and wallah....you are in business. Retractable banners are beautifully constructed to be super portable and easy to use with the actual banner rolling back down into the base of the retractable banner stand. Another attractive feature of the retractable banner is the ability to be able to change out the actual banner portion of this style of trade show banner. Retractable banners come in all different sizes ranging from small table-top versions to extra large retractable banner stands that can house custom digitally printed banners up to 60 inches wide. Retractable banners typically have their own carrying case as well that is well-suited for traveling from location to location.
Trade Show Adjustable Banner and Stand Combos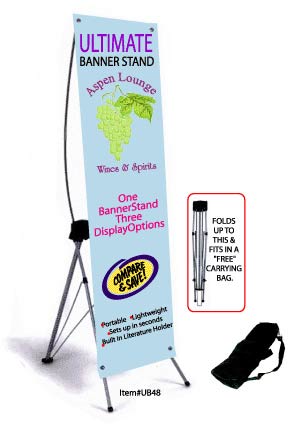 Adjustable banner stands are also a great trade show sign that is fairly decently priced and can fit into just about any budget. Adjustable banners take a few more minutes to set up than the retractable banner stand (pictured above) but are just as easy to use and transport. Adjustable banners are another great multi-functional trade show asset as the standard can actually adjust to different sizes to accommodate different sizes of banners, so in essence, you only need to buy one adjustable banner stand which can be used intermittently with a variety of banners that have different images. And as with the retractable banner stands, adjustable banner stands, have many size options that are perfect for trade show presentations and advertising from table-top versions to oversized banner displays that extend to 40 inches in width. If you need a budget trade show banner, this is the type of banner to purchase.
Trade Show Step and Repeat Background Banner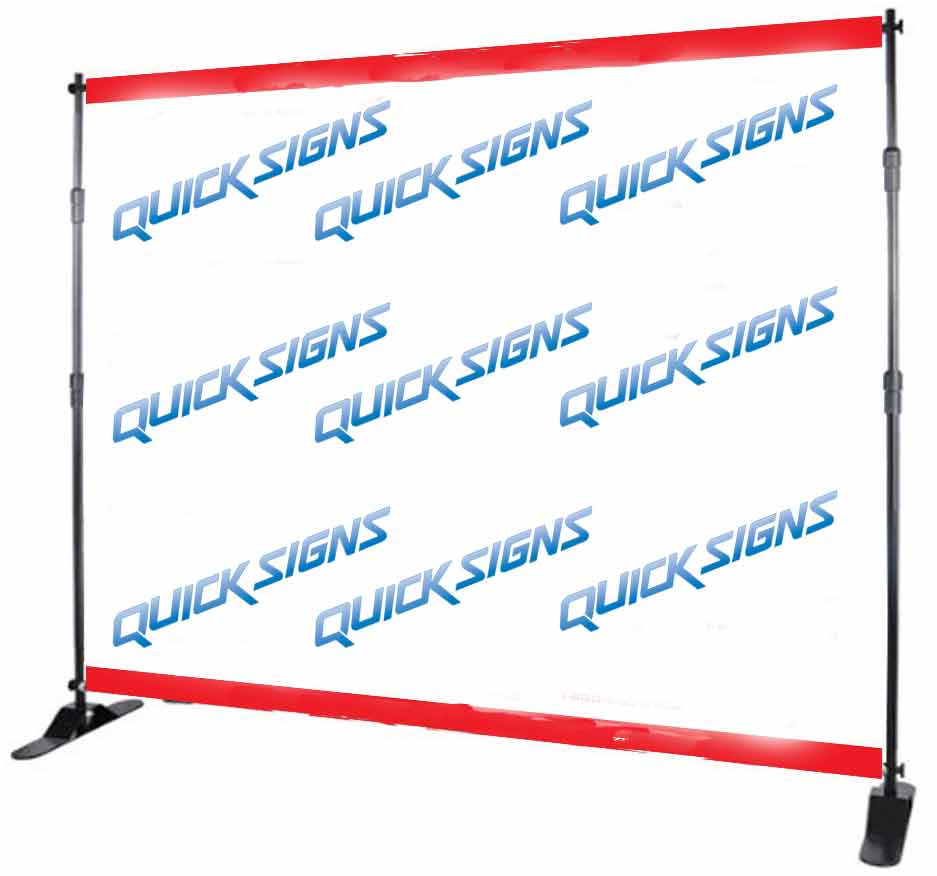 Step and repeat banners serve a wonderful purpose at trade shows by serving as a creative backdrop or background for display spaces. Step and repeat banners are usually repetative in nature with a logo or a series of logos that continually repeat over and over across the expanse of the banner image area. Step and repeat banners also make great partitions at trade shows for separating booth spaces when the event is in an open room without walls. Step and repeat banners are usually fairly large in size, typically measuring around 8 feet wide, but are still easy to set up and very portable.
Trade Show Wind Flag Banner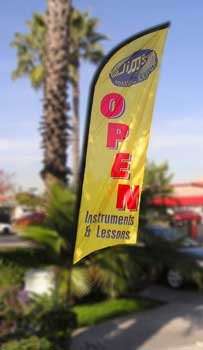 Wind banners make great trade show banners for either indoor or outdoor use. Wind banners are made from a durable fabric material that assembles onto a pole system that is either mounted into a floor base (with or without a water tube) or a ground stake. Wind banners come in two different banner styles (feather and tear drop) and three different sizes. Wind banners work well for trade show purposes when space is an issue because of the wind banners vertical nature. For outdoor trade show events wind banners are great because they actually rotate 360 degrees in either direction and can display two different messages on either side of the banner. Indoors, wind banners, can serve as colorful beacons or creative advertising tools with their vertical reach and unique advertising space. Wind banners also come with a nice carrying case making them portable as well.
Building your trade show banner and sign display arsenal can be a fun experience by incorporating these different types of banners and other sorts of other sign and promotional items that we proudly sell and product here at Quick Signs. If you have any questions about trade show banners and signs, please give us a call at (714) 573-9313.