Custom vinyl wraps aren't just for cars anymore!
Custom wrap just about anything with adhesive vinyl.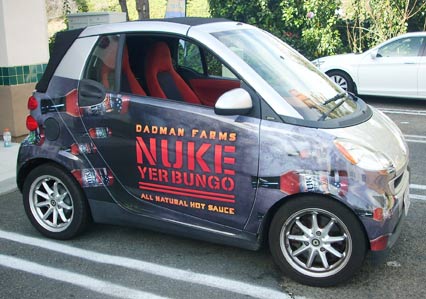 The photo of the vehicle wrap to the left is a great example of the fun use of vinyl with cars, and is an industry standard for mobile advertising, that is widely seen all over the streets of the U.S.A. on all styles of vehicles. And while vehicle wraps are very trendy and popular to trick out your mode of transportation, most people don't realize that lots of other things can be wrapped with adhesive vinyl, to create a totally custom look on just about any smooth non-porous surface. Wrapping something gives it character and a uniqueness that can be swapped out, with no damage to the underlying surface, by utilizing digitally printed decals or colored cut vinyl.
Adhesive vinyl is a great medium that can be used in a variety of ways when it comes to vinyl wrapping items. Wrapping something versus painting something can be a better choice economically, especially when you consider that someday you may want to change up the scenery, and you'll have to re-paint over the piece. That's where vinyl wrapping is king! Vinyl wraps allow you to adhere your graphics to a surface, and remove them when you desire something different, or you simply just want the piece back to it's original state. Vinyl wraps hardly ever cause damage to the objects that they are applied too making them safe, affordable and practical. Below are just a few examples of some custom vinyl wraps that we've done here that may just inspire you to look into vinyl wrapping and all it's possibilities.
VINYL WRAPPED SURFBOARD
Spruce up all sorts of objects with a vinyl wrap.
This vinyl wrapped surfboard is a prime example of how to spruce up an ordinary object, making it a visually stunning piece of art, that can be displayed indoors or outdoors. The possibilities are endless as you could have any image printed onto the vinyl, which is then wrapped around the object, giving a completely different appearance that can be used for advertising or decoration around the house or around the office. This particular piece was wrapped with our gloss vinyl giving it a shiny look that was vibrant, spunky and fun! The sky's the limit for vinyl wrapping because just about any plain object could benefit from a custom vinyl wrap to bring it to life adding pizzazz to the piece easily and affordably.
---

VINYL WRAPPED KIOSK
Vinyl wraps give a greater visual impact!
This particular vinyl wrap utilized a matte vinyl that gave it a subtle yet creative new look to cover up the very plain and boring wood base of this mall kiosk setting it apart from the rest of the other kiosks dotted around this particular shopping center. Sometimes it's a wonder that more people aren't utilizing the vast creativity that vinyl wrapping brings to the table with it's affordability, ease of use, versatility and visual aesthetics.
---
So take a quick look around your home or office and see what items or objects you have or use that could benefit from a custom vinyl wrap face-lift and give us a call at (714) 573-9313 to inquire about our custom vinyl wraps for everything from your car to your wall to your desk and much, much more!