10 ways to use Labels and Decals
Business marketing with the use of labels and decals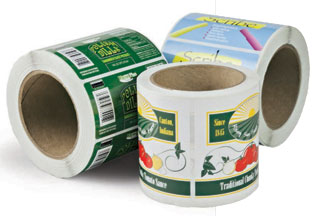 Businesses can successfully utilize all different sorts of labels and decals to identify and market their business from the inside out. Effective marketing brings recognition and familiarity that can make or break some businesses. Below is a list of 10 creative ways business can use labels and decals to brand their business affordably integrating a professional look all the way around.
So you question what can utilizing labels and decals for your business really do for your marketability? The answer is...Lots! The ten label and decal uses listed below will benefit most definitely benefit any company that wants to invest in their overall look and brand. And whether your business is big or small, incorporating custom labels, custom decals and custom stickers, can be very useful and fit into any budget.
1 | Promotional stickers, labels and decals
Promotional swag is great to get your product noticed at events, trade shows, concerts, etc. Handing out promotional decals helps get you recognized in a simple and affordable manner and can generate a good amount of new business from just being seen.
2 | Branding Electronics
Another way to use labels and decals for business purposes is to apply custom stickers to company cell phones or laptops which instantly turns them into mini billboards marketing your brand. This works well for big companies and small start-up businesses as well.
3 | Bumper Stickers
Bumper stickers are everywhere and play a big roll in mobile advertising for some companies. Bumper stickers are extremely cheap, informative and fun. We've all sped up just to read a bumper sticker, so why not take your marketing to a mobile level and try and generate new business with custom bumper stickers.
4 | Mailing and Shipping Labels
Ordering personalized envelopes or mailing packages can be expensive, but ordering customized mailing and shipping labels, is very cost effective and versatile. Custom mailing labels give businesses lots of flexibility because the labels, decals or stickers can be applied to any package.
5 | Window Decals
Give your business storefront some character with custom window decals. Boost your curb appeal by applying window lettering, window decals or window graphics (a combination of both) to make your business more visible. Window decals are highly visible and get noticed. Also, consider advertising on your vehicle with car window decals as well, for mobile recognition.
6 | Wall Decals
Really want your office to stand out? Custom wall decals are a perfect way to accentuate the office walls and bring them to life. Custom wall decals are great for interior decoration and can be applied easily with minimal effort and cost, compared with pricey and permanent painting. Wall decals can be applied and removed without damage to the underlying paint and changed as often as necessary.
7 | Floor Decals
Floor decals can be just as effective for marketing and branding as wall decals and window decals. Most floor areas at businesses are severly under-utilized but gets the most use. Direct clients to your location with floor decals or advertise store sales and specials.
8 | Static Cling Decals
Does your business need promotional advertising that continually changes? If so, static cling decals are a great company asset, for non-permanent window signage. Static cling decals are non-adhesive and can be put up, taken down and stored effortlessly.
9 | Product Labels
You can't market your product in just the container it comes in. Investing in custom product labels is easy to do and very cheap. Products need custom labeling to make sure that they look appealing to the public whether your business product is on a shelf or being sold at a local farmer's market.
10 | Water Bottle Labels
For your next company gala, fundraiser or staff party consider purchasing custom water bottle labels that literally put your branding right into the hands of people. This is a cheap and inexpensive way to personalize any event and adds a nice flair of branding and marketing at the same time.