Vinyl Banner Hanging Considerations.
Things to consider when hanging vinyl banner signs.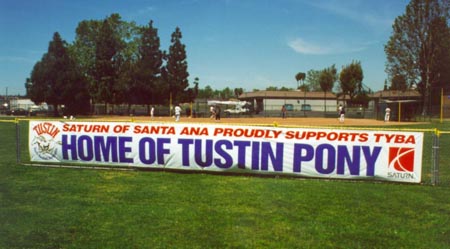 Vinyl banner signs are very effective and useful for a myriad of business and personal uses from marketing store wide sales to endorsing politicians to decorations for a birthday or wedding celebration, and the list goes on and on. But when buying a vinyl banner you'll need to consider how the banner will be hung, where it will be displayed and under what conditions to make sure your vinyl banner sign will work for your intended purposes.
HOW WILL THE BANNER BE HUNG?
When purchasing a vinyl banner sign it will have to be hung to be effectively seen. There are many different ways to hang a banner, most of which don't require any special hardware or finishing options, that make using vinyl banners easy, affordable and effective. Most all standard vinyl banners come finished with evenly spaced grommets punched directly into the material for hanging purposes. These grommets provide a plethora of banner hanging options like bolting the vinyl banner to a wall or wood surface; stringing rope or fishing wire through the grommets to tie off to poles or trees; or in windows with suction cups that have hooks to hang the banner from, to name just a few.
If your banner will need to slide onto a pole system then instead of grommets you'll need a sleeved pole banner that has extra material at the top and bottom of the banner (and possible the sides as well) that is left open to slide over metal, wood or plastic poles. This particular style of hanging a banner is very common for sports team banners that hang from PVC posts or light pole banners in parking lots, on main streets or indoor display poles.
To hang over-the-street banners you'll first need to check with your respective city and inquire about any banner restrictions or requirements to ensure buying a banner that is outfitted properly to display above city streets. Most banners hung in this fashion need extra reinforcements, special hanging hardware (like D-rings or snap hooks) or rope sewn into the material that extends past the banner to tie off to free-standing objects.
And if your banner needs to have a clean look without grommets you can always choose to hang the vinyl banner with either Velcro or double-sided tape on the back of the banner. This method works well for vinyl banners that have no place to hang from or on the front of tables at trade-shows, farmer's markets, conventions and the like.
WHERE WILL THE VINYL BANNER BE DISPLAYED?
The location of where a vinyl banner where will be hung from can determine what type of material is best suited for your vinyl banner purchase. Most vinyl banners are printed on a glossy vinyl banner material that has a little shine to it which makes digital banner prints come to life and pop when displayed, giving off a vibrant full color display.
But if your banner will be hung in an area where there is a lot of direct light or behind a store-front window you might want to consider ordering a vinyl banner printed on matte material so that when hung it won't put off a lot of glare when being viewed. Another key thing to think about is how far away your banner will need to be viewed from. If your banner needs to be seen from a great distance, keep your text and graphics simple and to the point; if your banner will be hung in closer proximity to people then feel free to get fancy with lots of text and graphics that will grab the attention of your intended audience.
VINYL BANNER HANGING LOCATIONS.
Vinyl banners are made to hang both indoors and outdoors. Banners that are hung indoors could practically last a lifetime if cleaned and stored properly. While banners that are hung outdoors will last at least 3 to 5 years under normal weather conditions if properly installed and maintained. When hanging vinyl banners in any location it is always the rule to utilize all the grommets to evenly distribute the weight of the banner, thereby eliminating any stress on the banner itself. Improper banner hanging can result in damage to your banner and result in more money being spent to replace the damaged banner sign with a new banner sign.
Hanging vinyl banners in windy areas can pose a problem because the banner material can essentially become like a sail trapping the wind which can cause damage to the banner. If the location of your banner will put the banner in high-wind situations you may want to consider other banner sign options that are more agreeable in blustery conditions like mesh banners and flag banners. Mesh banners have tiny perforated holes in the vinyl material that allow air to easily pass through the banner. Whereas, flag banners are printed on a breathable light-weight fabric material, that can flap in the wind without damage to the banner itself.
And if you need foot traffic banner advertising you can purchase an adjustable banner system or retractable banner system to hang your banner on. Adjustable banner stands can be used to hang a banner with grommets on a free-standing portable and adjustable stand that can be put together and disassembled easily. Retractable banner stands allow you to hang a banner that rolls up and down, from a portable aluminum base, that sets up in seconds for another viable banner hanging choice when space options are limited.
---
For information or pricing on our vinyl banner products and services please give Quick Signs a call at (714) 573-9313 or Request a Vinyl Banner Quote online.