What type of window signage is right for you
Window signs are good for business!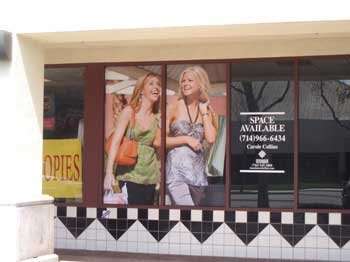 Windows are a prime spot for business advertising to lure, attract or inform potential customers through non-verbal visual communication and recognition. Choosing the right window signage for your needs and budget can be very easy and straight forward if you know what you are looking for and can express that to your chosen sign maker or printing company. There are lots of different window sign options among the sign industry and this blog will give you some basic information about some of the most popular window signage on the market today. So please read on for a little look at understanding the terminology, limitations and advantages that window signage offers and be in the know before you embark on the journey to spruce up your windows!
The following window signage options and choices are versatile and can be used on glass window, glass wall, mirrored and vehicle window surfaces.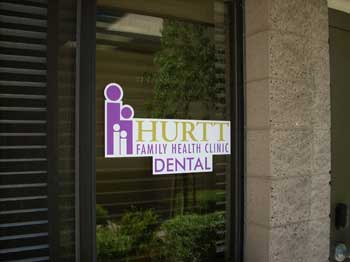 Window decals and stickers come in many ways, shapes and forms and are by far one of the most popular choices for window signs. Window decals are adhesive in nature and meant for permanent long-term use. Window decals can be printed on white or clear vinyl for inside or outside applications. Window decals printed on white vinyl are opaque while clear vinyl window decals are transparent. So if you'd like to be able to see out the window, choosing clear vinyl decals may be a better option.
When ordering window decals you can opt for a standard shape cut (square, rectangle, oval, circle, etc.), cloud cut (tracing the outside of the design) or custom cut (the decal will be cut out to the exact shape of the design). Window decals on the outside of the glass will generally need to be laminated to protect the print from window washing, the elements and possible abrasions. For window stickers that will be on the inside of the window facing out lamination is not necessary but you'll need to know the terminology to order them properly. The sign industry in general utilizes the term "mirrored" when discussing inside application window decals that face out. Price wise they are window decals are very affordable and cost effective.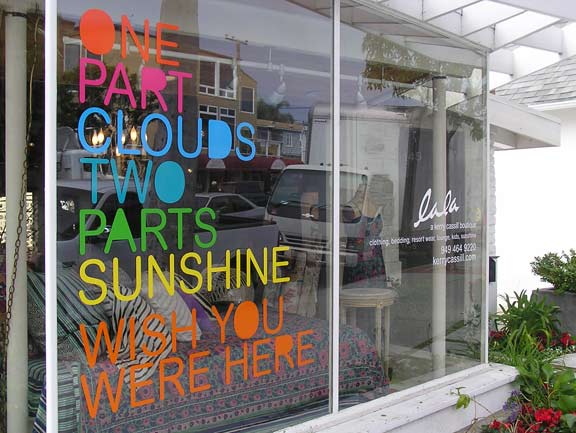 Cut vinyl window lettering is very straight-forward yet effective. This particular type of window signage utilizes colored adhesive vinyl material that is cut out to the shape of letters, numbers, logos or simple shapes. Once the vinyl has been cut all the extra material is weeded away leaving just the vinyl lettering in tact in a pre-spaced form for easy do-it-yourself installations (or you can opt to have a professional installer apply the lettering as well.)
Cut vinyl window lettering can be playful and fun (as seen in the picture posted to the left) or just plain informative like in the case of store hours or a suite number. And with the proper vector artwork, cut vinyl lettering, can be produced to bring your company logo to life to identify your store lending to the branding and marketing of your business. Cut vinyl window lettering is priced by the amount of characters and the size of said characters, so depending on your needs, window lettering can run the gamut on pricing from super cheap to a little pricey.
NOTE: Both of the above products can be combined to create custom window graphics containing printed decals and lettering.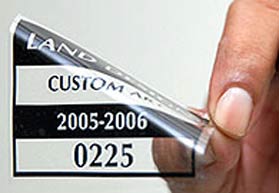 Static window clings are non-adhesive and can be moved or stored and re-used making them very valuable for storefront advertising. Window clings act like magnetic signs in that you can place them on and remove them with ease and at will. Window clings allow for freedom and flexibility because of their non-adhesive nature and the propensity to store them for future use as in the case of annual sales, store promotions, tax season, etc....you get the idea. Window clings can be used indoors or outdoors and printed onto white or clear static cling material to just about any size.
This produce is perfect for those than don't want to commit to permanent window signage and as for pricing, window clings tend to be fairly inexpensive, but then again that depends on the size and quantity of the order or if your window cling will need any special finishing options. And while window clings are a great product they are somewhat temporary. There is really no magic number of how many uses you'll get from window clings, because they tend to lose their adhesion qualities over time, or can be compromised by improper storage or installation.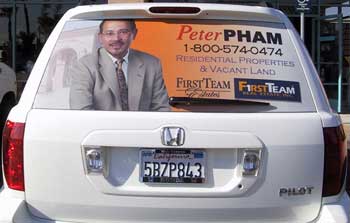 Vision film is another form a decal that is pretty unique because of the perforated adhesive vinyl material used. The material has teeny-tiny pinholes, giving this medium a see-through capability, which is digital print receptive. This type of window signage is great for both vehicles and storefront windows because patrons can see the printed image perfectly from the outside while allowing you to see out.
Vision film window decals also act as a window shade, to some extent as well, which is another nice feature of this product. And coupled with the fact that vision film window decals give you a fairly unobstructed view, unlike typical window decals printed on white vinyl that are not see-through, make the higher price tag for this type of window signage a bit more palpable.
PLEASE NOTE: We also carry perforated mesh banner material to create window-shades for display in window areas. This is a non-adhesive method of window signage that appeals to customers that don't want to commit to adhesive vinyl window decals.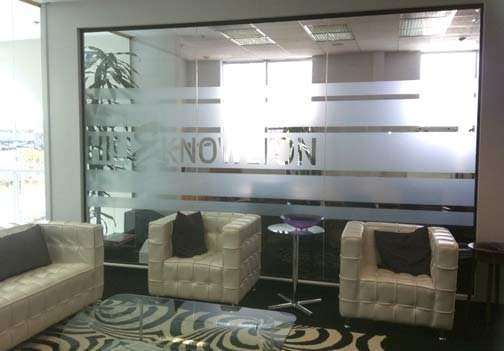 Etched glass vinyl window letters and decals are another form of cut vinyl window lettering made out of a special material that is semi-transparent and has a very sleek and sophisticated look when installed. Etched glass vinyl, sometimes referred to as frosted crystal as well, can have a sparkly or a bit diffused look to it that works well for indoor and outdoor lettering or decals. Etched glass window vinyl is also very popular for decorative purposes as well because of the semi-translucent nature of the material that acts like a muddled barrier visually while allowing light or colors to come through as well. Take for instance the picture to the left of the interior lobby area of a building that utilized etched glass vinyl graphics to create a visually pleasing waiting area that creates a semblance of two unique spaces that have their own privacy, without completely boxing in either area, lending to the bright and airy ambiance of indoor glass walls.
Etched glass vinyl tends to pricier than normal colored vinyls, and is also a little trickier to install, especially when the lettering or decal is mirrored for inside-out facing applications. But ultimately etched glass window signs are elegant looking and visually appealing and worth a few extra bucks spent to decorate your office or home glass walls or windows.