Quick and easy cheap signs for advertising
Inexpensive signs to start advertising quickly.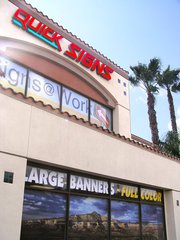 Advertising is an essential part of owning, operating or running a business. This is especially true for little mom and pop shops or for those who are opening up their own small business. You'll need to be noticed to attract the clientele and customers that will help build your business, but with a tight budget to get yourself off the ground with, you may wonder how you can afford a nice looking sign that is cheap and affordable yet attractive and sleek. Nobody wants a cheap looking sign to define their business but sometimes the funds just aren't there for more extravagant signage. Sometimes it's best to start small and expand as your business grows and here are a few great ideas for some cheap signs that fit just about any budget.
If you are in a hurry to get a sign up to signal the arrival of your business, whether temporarily or on a more long-term basis, here are a couple great cheap sign ideas that can be made quickly and at a great price for discerning budgets.
Pre-printed vinyl banners (or in-stock banners) are a cheap sign alternative when you want to get a simple point across like "Now Open" or "Under New Management". These durable outdoor banners are pre-made and come in a variety of different sizes (3' x 5', 3' x 10' and 3' x 20') to suit large and small advertising needs and begin at a reasonable price of $39.95 each.
Stock banners are easily ordered and can usually be shipped within one business day. Stitched, hemmed and grommeted all our pre-printed banners (stock banners) are easily hung and will last outdoors for years without any fading.
But if you need a cheap banner with a little more oomph then you can upgrade to a digitally printed banner (see below). Printed banners give you the opportunity to customize a banner more specific text, logos and graphics.
---
Printed banners are the next step up when it comes to vinyl banner printing. Ordering a banner sign that has custom graphics, logos or text is still attainable with cheap vinyl banner printing. Printed banners give you more versatility than a pre-printed stock banner and allow you to brand your business and add more life to your cheap sign without breaking your budget.
Digital printed banners utilize fade-resistant inks that are directly printed onto durable outdoor vinyl that can be easily hung indoors or outdoors for a variety of purposes. This style of banner has straight cut edges and grommeted corners for a nice clean look that can be used for permanent advertising all year round!
Printed banner prices vary depending on the overall size of the banner, and if the customer has print-ready artwork, or needs help with a custom banner design.
---
When you can't hang a banner, or don't have a spot to hang a banner from, then consider an sidewalk sign (also known as a A-frame signs) to cover your quick and cheap sign needs. Sidewalk signs come in a variety of different styles from a simple wire-frame A-frame model (see "Get Noticed" in the picture to the left) to a more sophisticated plastic a-frame sidewalk sign (see the "ice cream special" picture to your left). These particular signs are portable and allow for double-sided advertising. Highly visible to foot traffic, sidewalk signs, can be placed outdoors or indoors and then stored when not in use.
Another added bonus of this cheap sign option is that the informational inserts are interchangeable. So once you purchase the actual sidewalk sign base itself, you can order different inserts that can be changed out at will which makes an sidewalk sign an excellent investment that can be continually used for a multitude of different needs.
---
For more information on any of the products listed above, please give us a call at (866) 267-4467, we're here to help you achieve your cheap sign needs quickly and within your budget!