Interior decorating with frosted crystal vinyl
Frosted crystal vinyl works well for office decoration.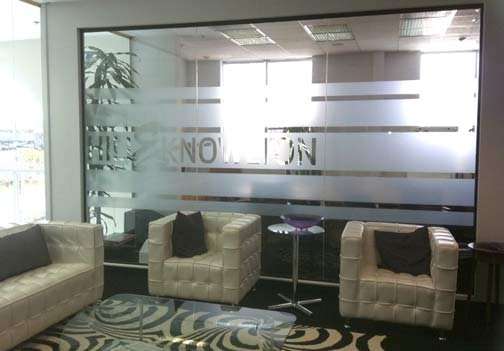 When it comes to office window decorating, frosted crystal vinyl, is a great medium to work with. Frosted crystal vinyl (also known as etched glass vinyl) is semi-transparent, essentially mimicing the look of sand-blasting without the cost or permanence, and offers a unique look when your office decorating needs encompass office areas with lots of glass walls, windows or partitions. This vinyl has a subtle diffused hue that makes it great for creating separation between rooms adding a touch of privacy while looking sophisticated and classy.
Decorating your office space with frosted crystal vinyl can be very plain and simple, or complex with creative designs that almost cover whole windows (as seen in the photo above), depending on your design. Below is an example of how one of our clients creatively used frosted crystal vinyl, in conjunction with digitally printed window decals, to spruce up their office space.
LOBBY/RECEPTION AREA:
Utilizing frosted crystal vinyl in a lobby or reception area looks professional and effectively separates the front office from the rest of the building in a visually attractive way that still allows for ambient light to filter through the glass partition.
You'll notice that the frosted crystal vinyl kinda blurs out the other side of the glass so there is an air of privacy for those working in the background. The semi-transparent nature of this particular vinyl makes it easy to keep a level of anonymity that doesn't create two static areas, but rather, two cohesive rooms instead of one big fishbowl.
This particular client also combined their frosted crystal office decorations with a digitally printed decal with their company logo, further personalizing their sign endeavers and giving the frosted crystal vinyl more character instead of just having a block of frosted crystal only.
MEETING ROOM:
Again utilizing the combination of frosted crystal vinyl and digitally printed window decals they transformed the meeting room entrance into an attractive and functional glass window/wall that has just a tad bit of privacy from the sitting room directly in front of it.
And while the frosted crystal vinyl on the window is very basic it still looks sophisticated and creates a nice level of separation between the two co-mingling spaces without breaking the bank.
---
For more information on frosted crystal vinyl for office window decoration, please give us a call at (866) 267-4467. Let us help you enhance your business office environment with frosted crystal vinyl combinations and graphics.