Backdrop banners can enhance any event!
Fabric backdrop banner with free-standing display kit.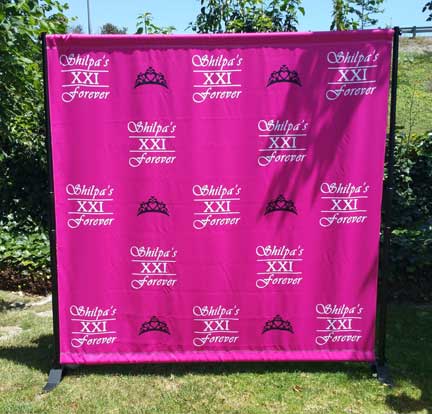 FEATURED SIGN OF THE DAY!
We produced this custom backdrop banner for a birthday party event. This particular backdrop banner was printed on 100% polyester fabric banner material, that is wrinkle resistant and has minimal light reflection, and has a simple yet colorfully elegant step and repeat banner design. Utilizing sewn-in pole sleeves, this backdrop banner, easily slides onto our extra large banner display kit that is light-weight, portable and adjustable. This birthday backdrop banner will be a great background for group or single photo opportunities for all the guests and the special birthday girl!
Backdrop banners go by a few different names like background banners, red carpet banners or step and repeat banners. These banners are primarily used to create a custom background that can be used for branding, photo opportunities, advertising, etc. Backdrop banners are especially popular for red carpet events, trade shows or at special occasions.
Backdrop banners usually consist of a "step and repeat" design concept which involves at least 1 or more logos and/or wording. The "step" portion of the design refers to the logos or text that will be used to create the backdrop banner graphics. Stepping the graphics can consist of spacing out the text or logos across the length of the backdrop banner or to stagger the graphics accordingly.
So that leaves the "repeat" portion of the backdrop banner. Pretty much straight forward in it's interpretation, repeating is where you simply copy the "step" portion of the backdrop banner design and replicate it to fill up the rest of the allotted space for your particular banner needs. The repeat produces a simple yet elegant design that isn't overpowered by large graphics that cover the backdrop banner completely.
Backdrop banner graphics don't always have to be of the "step and repeat" kind either. High resolution images can be used for backdrop banner printing to create beautiful background scenes like majestic waterfalls, tropical beaches, a gorgeous open sky, a mountainous snowy tree-line, etc. Backdrop banners can also consist of a single image, logo or text to identify your band, highlight your brand or identify your location at a tradeshow and so much more.
Backdrop banners can be printed onto two different banner materials: vinyl and fabric. Both banner materials are durable and look great when displayed. Vinyl backdrop banners are more rigid and solid and can't be seen through; whereas, fabric backdrop banners have a more fluid flag-like wind banner appearance and are semi-transparent. Both vinyl and fabric backdrop banners can be outfitted with sleeves, exactly like light pole banners, to easily slide over a portable backdrop banner stand for display.
---
For backdrop banner pricing and/or questions, please give us a call at (866) 267-4467, we're here to help you achieve your banner sign needs!