Building numbers for address identification.
Dimensional address numbers for buildings, offices and suites.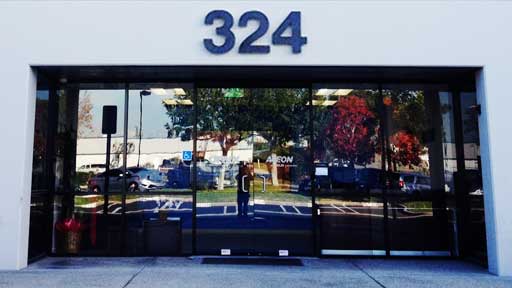 Another use of dimensional lettering comes in the form of dimensional building numbers. Building numbers are oversized dimensional numbers that are affixed to the exterior of commercial and industrial buildings to display the street address. Building numbers need to be highly visible from a distance for proper location identification. Building numbers are manufactured using a variety of materials to suit any purchasing budget or need and can be ordered easily and quickly once
a size, color, style, font and respectful numbers are specified. Some common materials that building numbers are available in are metal numbers, foam numbers and plastic or acrylic numbers. Heavy duty outdoor foam and plastic or acrylic numbers are the most commonly used because they are lightweight in nature when compared with metal numbers. Foam building numbers and plastic building numbers offer the most cost-effective way to number an office, with metal numbers being the most expensive and heavy.
Since building numbers do need to be scene from a distance you'll want to make sure that the size you order will suffice visually. A rule of thumb with building numbers is that for each inch in height the building number is visible up to about 30 feet away. Also, something to consider when shopping around for building number is the fact that your respective city might have strict specifications regarding the size, material and installation of building numbers. It's always best to check with the local zoning department or your property management company so that you order the proper signage.
Some other options to consider when looking into dimensional building numbers is the level of depth you want to achieve with your numbers. Flat cut building numbers offer an elegant slightly raised look. With foam letters being able to achieve thicker depths that protrude farther from the building for an ever richer dimensional effect.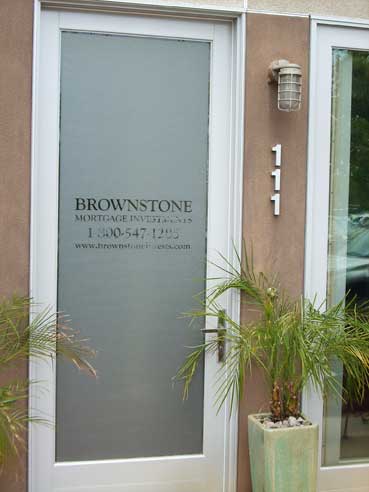 The other end of the building numbering spectrum encompasses identifying individual suites or offices with smaller dimensional numbers. Dimensional numbers add a more unique touch than traditional painted-on numbers or opting for flat cut vinyl numbering. Also, another interesting way to utilize building numbers is to use them for your residential address number. Custom building numbers can give your residential home numbering a unique look that can't be achieved with the standard address numbers that you find at your local hard ware or do-it-yourself home improvement stores.
(The picture to the right showcases the use of dimensional building numbers for office suite identification. The dimensional numbers add an elegant touch to the etched glass vinyl applied to the business entrance door .)
Have questions about dimensional building numbers for residential, commercial or industrial buildings? Give us a call at (714) 573-9313 and inquire within.