Popular uses for adhesive cut vinyl
Cut vinyl is suitable for professional or recreational use.

Cut vinyl is a very versatile product that can be used for a multitude of personal and professional signage. Cut vinyl is adhesive and comes in a variety of solid colors that can be cut out to shapes, logos and letters which can be applied to just about any smooth non-porous surface. Cut vinyl comes pre-spaced and has a layer of transfer tape on the top for easy do-it-yourself installations to customize or personalize your office, home, vehicle or creative projects.
5 Popular Uses for Cut Vinyl: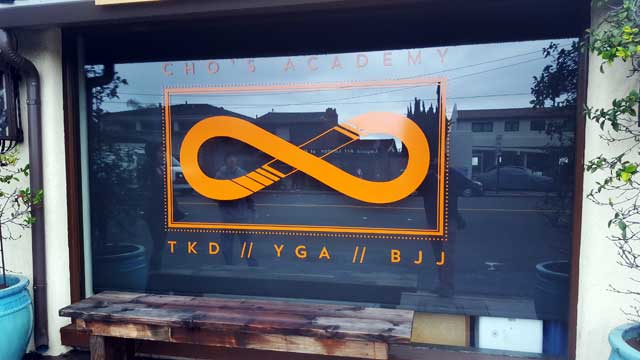 CUT VINYL WINDOW LETTERING, DECALS AND GRAPHICS
Windows are one of the most popular surfaces to apply cut vinyl lettering, vinyl decals or vinyl graphics too. Cut vinyl can be used for indoor or outdoor window, glass or mirror applications. The custom logo you see in this photo was professionally installed on the outside of the glass for optimum visibility (heavily tinted windows can mute the color of the vinyl). We also carry reflective vinyl and etched glass vinyl for cut vinyl window graphics.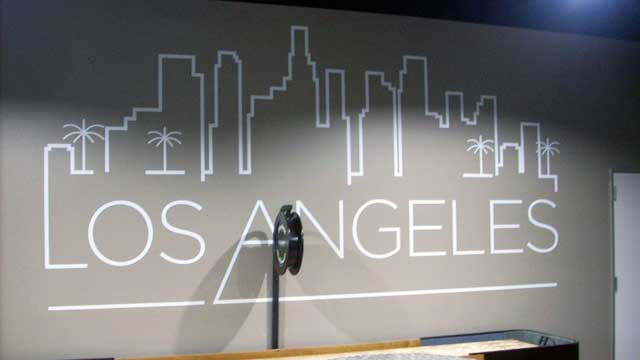 CUT VINYL WALL LETTERING, DECALS AND GRAPHICS
Another very popular spot to utilize cut vinyl is for wall graphics. Cut vinyl is great for interior decorating to spruce up drab office, lobby, reception areas and work areas. Cut vinyl wall graphics can also be utilized in your own home to create custom the custom wall decal like the one you see pictured to the left. Cut vinyl can be applied easily or installed, and upon removal, doesn't damage the underlying paint.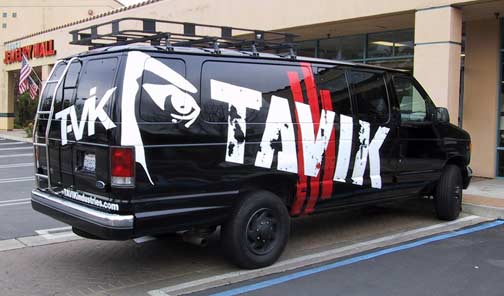 CUT VINYL VEHICLE LETTERING, DECALS AND GRAPHICS
Cut vinyl graphics for mobile advertising is highly popular with businesses big and small. Cut vinyl graphics can be applied to any vehicle for branding, marketing, advertising or personal customization. Cut vinyl can be used for simple vehicle lettering or fleet numbering; yet can also be cut out to shape utilizing vector artwork to create custom vehicle decals and graphics like seen on the vehicle to the left. We also offer reflective cut vinyl as well.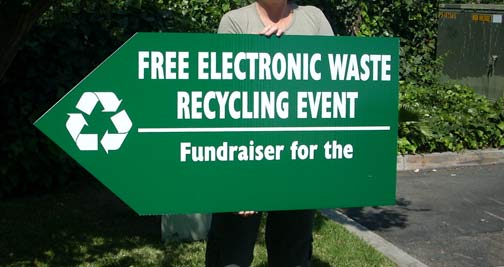 CUT VINYL SIGN LETTERING, DECALS AND GRAPHICS
When it comes to manufacturing signs cut vinyl is super popular, because it can be applied to just about any smooth sign substrate, and utilized for long term outdoor signage because vinyl lasts longer than digital prints. Since cut vinyl colors are solid they last longer than digitally printed graphics, which tend to fade quicker, even when UV fade-resistant inks are used.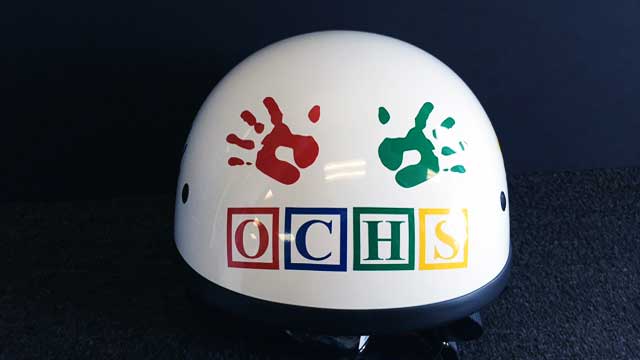 DO-IT-YOURSELF CUT VINYL FOR PERSONAL PROJECTS
Cut vinyl is also very popular in the do-it-yourself niche because you can customize and personalize just about any non-porous object easily and quickly. Take for instance the bike helmet picture to the left, four different vinyl colors were assembled for one single application, giving this helmet a completely custom look. And since cut vinyl has no background, because it is cut-to-shape, the substrate color is able to show through.
---
Have questions about cut vinyl lettering, decals or graphics, please give us a call at (714) 573-9313. You may also request an online quote or visit our Orange County, California retail location.