Large Decals & Stickers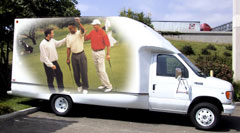 Need a BIG sticker? A large decal?
Do need a big decal for your truck, car , boat
or large project sign?
If you need big decal. we can make the kind of decal that you see on buses or the type of sticker that you see on billboard signs or vehicle wraps. We can produce stickers and decals at any size.
For very large decals and stickers, (over 50" tall), our decal and sticker printers and cutters can be panel together images to produce signs at any size. Our decals and stickers can are printed on vinyl or cut out of vinyl for easy application on any sign, truck, car, boat, billboard sign or any other smooth surface.

Large vinyl decals and sticker uses:
Vehicle - vinyl lettering or stickers for cars, trucks, buses.
Project signs - Large real estate decals for outdoor signs.
Trade show - Large decals for display.
Vinyl window graphics - Big printed vinyl graphics or large vinyl cut lettering & graphics.
If you have something to say... say it with a decal!
With decals and stickers there are several decal sizes and types to choose from. For more decal and sticker information, select from the following choices:
Vinyl lettering and graphics. Self stick adhesive computer cut vinyl letters and graphics. See Vinyl Lettering - do it yourself.
Large format digital printed decals and stickers on adhesive vinyl. Big vinyl decals and stickers for indoor and outdoor use get pricing.
Smaller vinyl decals - Bumper sticker size. Choose from a variety of sizes and shapes of bumper sticker sized vinyl lettering and graphics. See Bumper Stickers.

What are vinyl cut lettering and printed vinyl decals?
Vinyl cut lettering and graphics. In most cases sign lettering and/or sign graphics are either printed on adhesive vinyl and applied to (stuck) a sign material (wood, plastic, vehicles, metal, etc.) as a large sticker or the lettering / graphic is cut out of adhesive vinyl (using vinyl cutting machines) and applied to the sign surface.
For more information on computer cut vinyl graphics and digitally printed vinyl decals,
give our printing specialists a call.
Local: 714-573-9313