Political Yard Signs for Campaigning!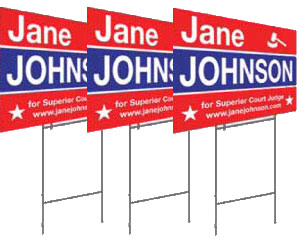 Cheap political yard signs to show your support!
Custom political yard signs for primaries, elections, campaigns and voting.
Political campaigning for the Presidency, House, Senate, Congress, etc. is made easier with the advent of political yard signs. These handy, light-weight plastic signs are easy to produce and are one of the cheapest forms of political advertising in our home state of California and for all the other states of the U.S.
Political yard signs offer the advantage of a cheap sign that packs a punch visually. Political yard signs get your message or political endorsement out in full view at an affordable price whether you are ordering one political yard sign or hundreds of political yard signs for large scale campaign coverage or rallies.
Political yard signs are a custom product we produce here and can be single-sided or double-sided to show your support or a candidate, stance on a ballot measure or your views on delegates contending in the political race for election. Political yard signs are a personal statement and serve to either endorse or oppose the current political currents or events happening in your area and celebrate our nation's freedom of choice!
Political yard signs are easy to order and can be produced within a few business days. We produce our political yard signs in California but can ship them nationally to all of the United States. Political yard signs have no minimum order requirements but do get deeply discounted on high quantity orders. We welcome all political affiliations and produce custom Republican and Democratic Party yard signs, as well as, political yard signs for the Independent, Green and Libertarian voters out there.
Other political sign products to consider for personal use or campaigning?
For information on our political yard signs, give our sign specialists a call.
714-573-9313