Affordable mobile advertising for fleet vehicles.
Fleet vehicle advertising for large or small businesses.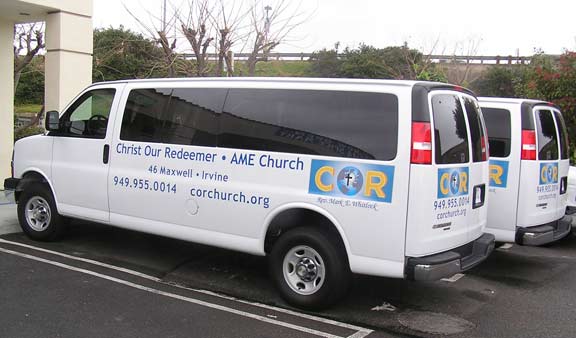 Do you have a small business that consists of a few fleet cars for a courier or cleaning service? Or do you have a fleet of box truck vehicles that require branding and identification? No matter your fleet vehicle graphic needs look no further than your local sign shop, to help get your fleet vehicles outfitted with personalized graphics of your choosing, or merely with simple vinyl lettering or decals to number or identify your fleet vehicles. Branding your fleet vehicles is easy and affordable whether you decide to have your local sign shop install the fleet vehicle graphics or install them yourself.
Fleet vehicle graphics are a great way to promote your business and identify your brand for mobile advertising. Branding your vehicle gives your business or company recognition on the road as well as on location. Mobile visibility with fleet graphics can be helpful in generating new business while also securing an authority of professionalism and integrity.
Fleet Vehicle Graphic Examples:
Fleet vehicle graphics can be simple or complex. From just idenfication numbers on trucks or service vans to elaborate combinations of vinyl lettering and digital decals creating a partial vehicle wrap to full blown vehicle wraps that cover the entire vehicle. Need a non-permanent fleet vehicle branding option? No problem, you can also brand your fleet vehicles with removable magnetic signs.
Cut Vinyl for Fleet Vehicle Graphics: Solid colored cut vinyl can be used for fleet vehicle lettering and numbering as well as for vinyl decals. Cut vinyl lettering is long lasting and fairly fade resistant.
Removable Magnetic Signs for Fleet Vehicle Graphics: When you don't want to utilize permanent graphics for your fleet vehicles magnetic signs are the way to go. Magnetic fleet vehicle signs are economical and great for leased fleet vehicles as they are non-permanent.
Partial Wraps for Large Fleet Vehicle Graphics: For larger fleet vehicles a partial wrap is the perfect option to effectively cover expansive areas. Extra large digital prints are applied like wallpaper to create a continuous image. This is a great branding option for box trucks and moving vans, etc.
Digital Decals & Cut Vinyl for Fleet Vehicle Graphics: When your fleet vehicles need digitally printed graphics in conjunction with cut vinyl you can create fleet graphics to create another form of a partial vehicle wrap. This works for fleet vehicles that need specific brand colors to match their company logos.
---
For more information or pricing on Fleet Vehicle Graphics and Lettering,
call us at (714) 573-9313