Process Color Labels, Decals & Stickers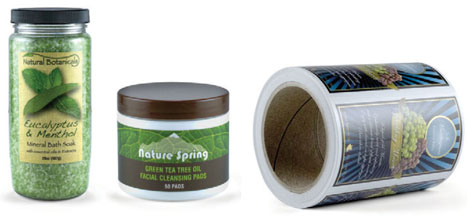 Full color custom labels
Make your labels "Pop" with process color!
Why settle for one, two or three spot color printing when digital printing can produce vibrant full color process labels, stickers and decals that will literally "Pop" with your own custom graphics making for a more professional looking and eye-pleasing label.

Process color labels are achieved by utilizing a CMYK print process method (Cyan, Magenta, Yellow and Black) that combines all four different colors at varying degrees to create full color images printed directly to adhesive label, sticker and decal material. CMYK printing basically consists of four main colors that when printed altogether create full color digital images that have depth and pizazz compared to flat spot color imaging. Process color label printing literally allows your labels, decals and stickers to be printed in every color of the rainbow producing captivating adhesive labels for distribution, product use and more.
Process color labels are widely used for promotional, marketing and branding needs and can be seen on water bottle labels, wine bottle labels, beer bottle labels, product labels, mailing and shipping labels, food labels and much much more. Process color labels get noticed and can make the difference in the eye of the consumer especially when creatively designed graphics are employed to create the initial digital print.
Process color labels can be printed economically on short-term or long-term adhesive materials depending on individual decal, label and sticker needs. Short-term process color labels on a paper stock might suffice for soap or candle labels that will be indoors. But for more long-term process color labels, decals or stickers that need to adhere to vehicles like bumper stickers you may want to invest in adhesive decals printed on durable vinyl that can withstand washing and the elements like sun, rain, snow, etc.
Process color labels can be printed in quantities large and small on white or clear paper and vinyl stocks at affordable prices at just about any size and can be cut to just about any shape as well. And depending on your process color label needs there are lamination choices that add extra protection and longevity to your process color labels.
Need a different type of label? See our label choices page for a variety of custom label information.
For more information on process color labels, decals and stickers
give our label specialists a call.
714-573-9313