Square Cut Labels and Stickers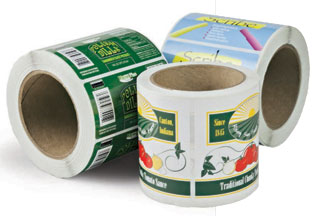 Custom square labels for all sorts of uses.
Spot and process color square labels, stickers & decals.
Square cut labels are one of the most popular form adhesive stickers on the market today. Square cut labels can be used on just about anything and can be custom made to any size needed in large or small quantities.

Square cut labels are the industry standard for branding tons of different products and items worldwide and can be seen just about everywhere from beer bottle labels to wine bottle labels to mailing and shipping labels to product and packaging labels to warning labels and so much more. Square cut labels can be manufactured for indoor or outdoor use depending on the stock which they are printed on. Most short-term use square cut labels can be printed on different styles of paper stocks, that don't need to be weatherproof, for extended indoor use. For a more durable square cut label, vinyl labels are the way to go, because they can be used indoors and outdoors and withstand adverse weather conditions as well as typical cleaning procedures.
Square label color choices run the gamut from a combination of one, two or three spot colors on up to full color process labels that are digitally printed. Spot color square cut labels have a variety of standard ink color choices whereas digitally printed full color labels are great for custom designs with vibrant images and graphics. Square cut labels can also be printed on clear vinyl label material, giving way to showcase the product underneath or subtly blend in with the existing substrate for a non-border look. And with small or large quantity run options you can have a few square cut labels printed or thousands printed at a time.
Square cut labels can be ordered on rolls or can be cut apart for individual applications or distribution.
Need a different type of label? See our label choices page for a variety of custom label information.
For more information on square cut labels,
give our label specialists a call.
714-573-9313