Flat Cut Acrylic (Plexiglas):
Letters and Logos
Acrylic dimensional lettering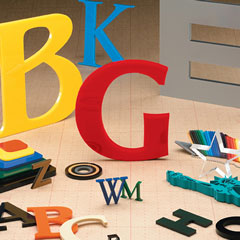 Acrylic flat cut plastic letters and logos are laser cut from solid sheets of clear or pigmented Plexiglas for a very clean look at nearly unbeatable pricing. Dimensional acrylic lettering comes in 7 thicknesses with 32 standard pigmented colors. In addition to the standard colors, clear acrylic can be painted using a PMS color matching system, to replicate special company colors.
Flat cut plastic letters are a great bargain, in comparison to the more expensive flat cut metal letters, and give you a very sleek dimensional look. Flat cut letters come start at a very thin 1/8" thickness on up to 1" thick. The lettering ranges in size from 1 inch on up to 72 inches depending on the thickness of the plastic lettering or logos. Our flat cut lettering font base is fairly extensive giving you over 100 standard type-style choices. And if you supply us with your vector artwork, you flat cut letters, can be precisely cut to your company brand or logo.
Flat cut dimensional letters are light weight, and very cost effective, when you need a letter that will outlast cheaper foam lettering. They have a lifetime guarantee and are rugged enough for outdoor use, but look great indoors as well. They can be mounted to just about any surface with 7 different mounting options. These economical letters are the perfect choice for indoor and outdoor use.
Plastic Letter Choices:


PVC Plastic Letters
Formed Plastic Letters

Injection Molded Letters

Get Info. or Call For Pricing
Get Info. or Call for Pricing
Get Info or Call for Pricing

- Solid plastic PVC lettering.
- Depths from 1/8" to 1" thick.
- Heights of 3" up to 46".
- Standard or custom PMS colors.

- Hollow formed plastic letters.
- Depth ranges from 3/4" - 3".
- Height ranges from 2" - 48".
- 40 different colors with PMS color options.
- Injection molded hollow plastic letters
- Look and feel of metal letters for less.
- Standard font choices in 45 colors.
- Heights of 2"-18" and depths of 1/2"-1 1/4"
For more information on our Laser cut flat acrylic dimensional letters, give our sign lettering experts a call.
Local: 714-573-9313