PVC (Plastic) Letters and Logos:
PVC dimensional lettering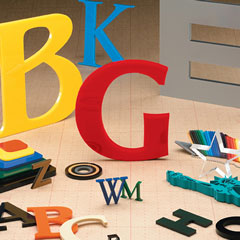 Plastic PVC letters for dimensional letters and signs are a lot like acrylic flat cut plastic letters in that they are very light weight, have great pricing and can be used indoors or outdoors. PVC lettering can be used in lieu of acrylic lettering because plastic PVC letters can reach greater depths (thicknesses) than traditional flat cut acrylic (plastic) lettering.
PVC letters are made from a solid poly vinyl chloride material and have smooth edges. All PVC letters are cut from a standard white material that can then be used as is or custom colored to any PMS color standard colors like red, black, yellow, blue, etc.. Dimensional PVC letters can also have custom faces as well to better resemble specific materials like metal lettering, wood laminates or glossy acrylic letters.
Besides having the ability to be customized with color, PVC letters can be manufactured in a variety of fonts, depths and heights. PVC letter fonts come in a variety of standard serif and sans serif options, and since plastic lettering is custom cut, you can utilize your own art files to create custom fonts to mimic brand logo fonts. PVC letter heights range from 3 inches up to 46 inches with a depth range from 1/8 of an inch to 1 inch.
PVC plastic letters are an affordable and decorative lettering option for both indoor and outdoor building uses to brand, decorate or identify business offices, lobbies, conference rooms and more. The light weight nature of this style of dimensional lettering allows for easy wall-mounted installations in a do-it-yourself fashion through a variety of options ranging from sticky-backed tape for smaller plastic letters to stud and pad mounted plastic letters for larger dimensional lettering. Give us a call today and inquire about your PVC plastic letter choices and pricing for your dimensional letter needs.
Plastic Letter Choices:


Flat Cut Acrylic Letters

Formed Plastic Letters

Injection Molded Letters

Get Info. & Pricing
Get Info. & Pricing
Get Info & Pricing

- Solid laser cut acrylic (Plexiglas).
- Sizes from 1/8 to 1" thick.
- Available in 32 color choices.
- Custom PMS color options available.

- Hollow formed plastic letters.
- Depth ranges from 3/4" - 3".
- Height ranges from 2" - 48".
- 40 different colors with PMS color options.
- Injection molded hollow plastic letters
- Look and feel of metal letters for less.
- Standard font choices in 45 colors.
- Heights of 2"-18" and depths of 1/2"-1 1/4"
For more information on our dimensional PVC plastic letters, give our sign lettering experts a call.
Local: 714-573-9313