Formed Plastic Letters & Logos
Plastic letters that offer unlimited variety, flexibility and depth.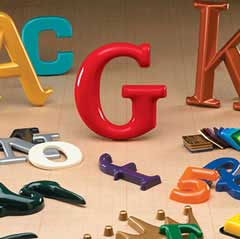 Formed plastic letters are the most popular and durable product available in the dimensional sign industry today. They offer the utmost in versatility and are guaranteed for life. Formed plastic letters are the standard for most local businesses as well as office parks and retail chains. Their inexpensive molds, make it easy to customize a letter style or logo for the perfect 3D sign, without the added cost of cast or fabricated metal letters and with a much longer outdoor life than foam lettering.
Formed plastic sign letters are molded with a large variety of face designs. They are available with flat, round, prismatic, or sculpted faces. These formed letters provide the deepest dimension for the money with over 128 standard styles and more than 40 standard colors.
Formed plastic sign letters are light weight and offer more depth than flat cut dimensional letters. Formed plastic letters can be completely customized, to the customer's brand or logo, when the proper vector artwork files are submitted. This style of plastic letter can range in height from 2 inches on up to 48 inches depending on the logo or type style that is chosen. Plastic formed letters and signs are suitable for indoor our outdoor use and can be mounted to a variety of surfaces.
Plastic Letter Choices:


Flat Cut Acrylic Letters

PVC Plastic Letters
Injection Molded Letters



Get Info. or Call for Pricing
Get Info. or Call For Pricing
Get Info or Call for Pricing

- Solid laser cut acrylic (Plexiglas).
- Sizes from 1/8 to 1" thick.
- Available in 32 color choices.
- Custom PMS color options available.

- Solid plastic PVC lettering.
- Depths from 1/8" to 1" thick.
- Heights of 3" up to 46".
- Standard or custom PMS colors.
- Injection molded hollow plastic letters
- Look and feel of metal letters for less.
- Standard font choices in 45 colors.
- Heights of 2"-18" and depths of 1/2"-1 1/4"
For more information on our formed plastic letters and logos, give our sign lettering experts a call.
Local: 714-573-9313