Injection Molded Plastic Minnesota Letters
Light weight plastic dimensional letters that resemble cast metal letters.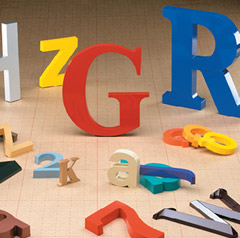 Injection molded letters combine the attributes of several other letter types. They are made from a renewable resource (non-petroleum) plastic and are incredibly durable. This style of lettering has the look and feel of cast or fabricated metal letters so they are suitable for any "up-scale" applications, and will stand up against the scrutiny of indoor applications, while being tough enough to withstand the elements outside. Injection molded plastic letters are available in six standard styles and 45 standard colors and are more durable than most other plastic letters.
Minnesota letters are usually an in-stock type of product and can be ordered quickly and easily in a variety of different colors. Minnesota letters do have an optional "custom color" choice to match just about any PMS color. These plastic letters range in size from 2 inches up to 18 inches in height with depths starting at 1/2" through 1 1/4" and a variety of mounting options to suit any indoor our outdoor surface. Outdoor installations of Minnesota lettering carry a lifetime guarantee and will last longer than your typical exterior foam lettering.
Minnesota plastic letters are available in flat or prismatic letters and are a great choice for large national chains that need a lot of lettering (quantities over 500) as well as small businesses that need a dimensional sign or letters in a hurry. Minnesota lettering comes with a lifetime warranty and are a great economical choice in lieu of heavy and expensive cast metal letters.
Plastic Letter Choices:


Flat Cut Acrylic Letters

Formed Plastic Letters

PVC Plastic Letters
Get Info. or Call for Pricing
Get Info. or Call for Pricing
Get Info. or Call For Pricing

- Solid laser cut acrylic (Plexiglas).
- Sizes from 1/8 to 1" thick.
- Available in 32 color choices.
- Custom PMS color options available.

- Hollow formed plastic letters.
- Depth ranges from 3/4" - 3".
- Height ranges from 2" - 48".
- 40 different colors with PMS color options.
- Solid plastic PVC lettering.
- Depths from 1/8" to 1" thick.
- Heights of 3" up to 46".
- Standard or custom PMS colors.
For more information on plastic injection-molded Minnesota letters, give our sign lettering experts a call.
Local: 714-573-9313