Vector artwork is necessary for die cutting decals, lettering, etc.
Vector artwork is the preferred file for most all digital sign output. Vector files are predominantly designed on Abode Illustrator. Vector artwork is a more math based program deals with attributes, lines, shapes and components allowing the file to be scaled to any size without losing resolution that normally distorts or pixelates a raster art file.
Vector artwork extensions consist of .AI, .EPS or .PDF and can be printed digitally or utilized for products that need to be printed and then cut to shape. This is possible because vector artwork has outlines that can be read by a computer and cut to size accordingly. Raster art files are actual images that have no actual outline and therefore can't be cut to shape.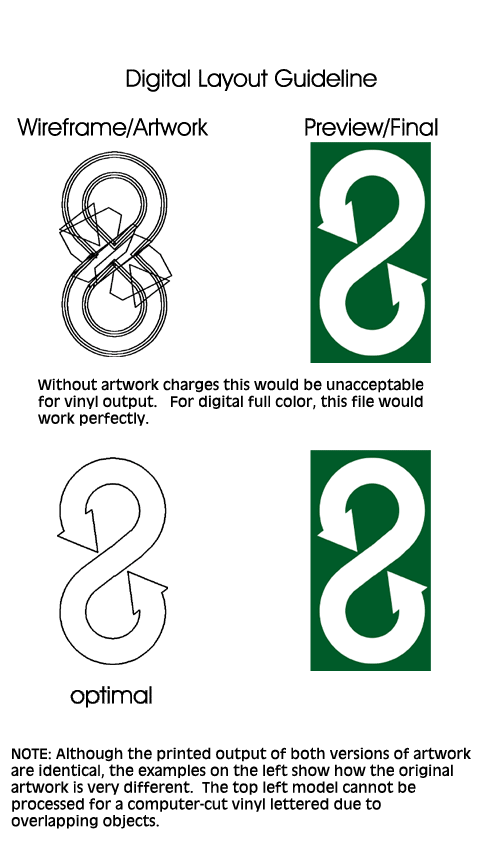 See the visual to the left for a quick example of acceptable vector artwork for straight digital output (no cutting to shape) and the correct way a file should look (in wireframe mode) for vector files that need to be cut out to shape.
The first set of wireframe vs. preview images on the left show vector artwork that could not be cut to shape in it's current form, but could easily be printed digitally for files that do not require any die cutting. If a file is submitted like this for die-cutting, our art department will have to clean it up for any contour cutting needs, which could incur additional fees. This particular design, if it was being cut to shape, would cut along every line you see in wireframe mode producing a mish-mash of cuts that intersect with each other instead of forming the solid shape you see on the preview mode.
The second set of wireframe vs. preview/final shows exactly what your vector file should look like to allow the file to be cut-to-shape without any design fees assessed. This is a proper vector file because all teh extra shapes and lines (as seen in the above wireframe image) have been merged into one solid and fluid shape for die-cutting decals, lettering and graphics. The wireframe image in this illustration can be cut to the exact shape you see in the preview mode and can be digitally printed as well in the event your order does not require custom cutting.
Need Artwork Help?
Call our sign specialists: 714-573-9313