Mesh Banners
Wind resistant vinyl mesh banners
Micro Holes allow wind to pass through.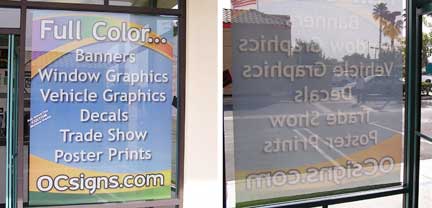 Mesh banners are usually used when a banner needs to be hung in high wind situations. Mesh banners are often used for outdoor events such as festivals, celebrations, concerts, carnivals, holiday greetings, and fairs allowing wind and sound to pass through the material. The perforated breathable nature of these banners also gives them a semi-transparent visual appearance which makes these types of banners also great for window shades for business offices or restaurants.
Mesh banners letting the wind blow through.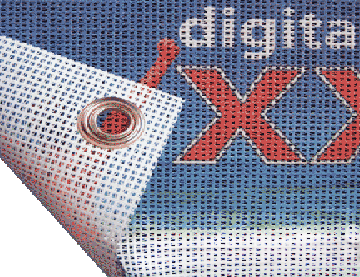 Mesh banner material is a heavyweight durable banner material that is porous, allowing wind to pass through it easily. Mesh is a great alternative to vinyl banners to counteract billowing winds can cause and to cut down a somewhat on wind damage. Mesh banners are usually more wind resistant than those made of other materials.
Mesh banners are made from a high quality vinyl material that has tiny holes in between the weaves. This feature will let some wind pass directly through the banner, helping it to lay flat and be more readable. The full image and message in all of its bright, authentic colors can be easily seen because the banner is not flapping in the breeze or billowed like a ships sail. These mesh banners are an excellent way to get a message across under almost any outdoor weather conditions.
Mesh banners are printed on high quality vinyl mesh with long lasting inks that hold their color well in all sorts of weather. They can be printed at nearly any size - large banners are no problem. Hung above a roadway, from scaffolding, over a fairground or at a concert festival, these banners will last from season to season for several years. Banners can be left up for long periods of time or can be taken down and rehung as needed. A large holiday mesh banner can be strung above a business' parking lot or across the entryway to a large office building. A sporting event can be advertised with mesh banners strung above roadways and around the stadium for weeks before the big day. Like all banners, this type of signage is inexpensive and can be printed quickly. Orders can often be completed in less than one week, while still meeting all of your customized specifications.
Another viable option for a wind resistant banner is our Flag banners. Our flag banners are made from a fabric material that is displayed on a swiveling pole system, that can be used indoors or outdoors, with a 360 degree turn radius. Our flag banners come in two distinct shapes and can be ordered single-sided or double-sided.
For more information on our mesh banners, give our banner specialists a call.
714-573-9313