Etched Glass - Frosted Crystal Vinyl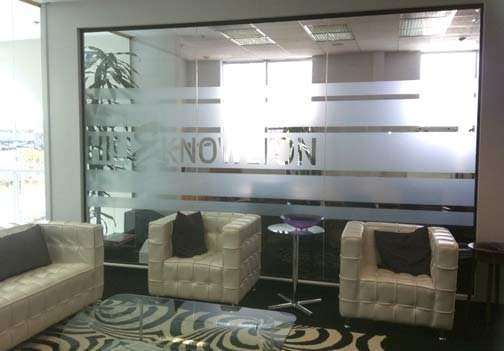 Looking for that etched glass look?
Using frosted crystal vinyl to give you that etched glass look at a fraction of the cost?
Frosted Crystal vinyl or Etched Glass vinyl applications give your ordinary piece of glass or mirror that frosted or etched look without the cost of actual sandblasting. Frosted Crystal etched glass vinyl is great for most types of glass, including installed windows, glass doors, glass table tops, glass patio doors and mirrors.
Call (714) 573-9313 for Pricing and Information.
This particular specialty vinyl adds beauty while also dramatically enhancing the elegance of a home or business. Etched glass vinyl can be custom cut to any size logo, shapes, and lettering or can be cut into sheets to completely cover a large area to provide a floor to ceiling etched glass effect.
Etched glass vinyl has an adhesive backing and is typically applied to any hard, smooth, flat glass, window or mirrored surface to give it a very cool and classy flair that is translucent enough for light to come through, yet diffused enough to add privacy to spaces within your office or home. And unlike permanent etching, should you change locations or your design, frosted crystal/etched glass vinyl is removable, leaving your glass and/or mirrored surfaces in their original condition.
For a custom etched glass window graphics or decals quote, please give us a call or request an Etched Glass Vinyl Quote online.
Popular frosted crystal or etched glass vinyl uses:
Store Windows - Customize with logos, images or lettering to visually enhance the exterior area of your storefront or office.
Office - Partitions on glass cubicles; privacy screens on glass walls or conference rooms; interior mirror accents; door numbering, etc..
Mirrors - Adorn a mirrored surface with etched glass or frosted crystal vinyl for a unique custom appearance.
Home - Use decorative designs on glassware or vases, shower door decor, sliding glass doors, exterior glass windows or doors.
For more information about frosted crystal/etchmark vinyl for that etched glass look,
please give our vinyl specialists a call.
714-573-9313