Vinyl Decal Cutting Options
Not sure of the decal cut you need? See the decal cutting chart below.
Adhesive vinyl decals are used for a variety of ways for advertising, marketing, branding and personalizing all sorts of different surfaces. Vinyl decals can be used for vehicle graphics, window graphics, wall graphics, lettering, labeling, promotions and so much more! But when you order vinyl decals you'll need to know exactly how your decal needs to be cut to achieve the look you desire. Whereas some decals don't necessarily need any special decal die-cutting like the standard decal print below; others absolutely do, to produce the overall appearance that the decal should fulfill, when adhered to a surface.
Pick your vinyl decal cutting style!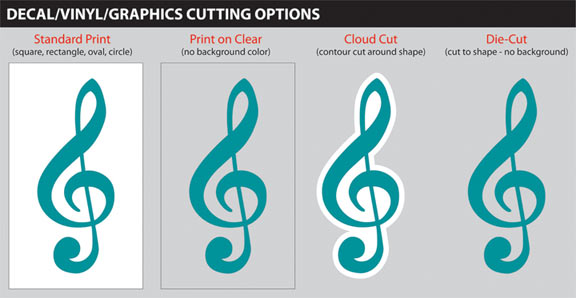 CUT DECAL DESCRIPTIONS:
Standard Print: This is the decal cut that is automatically used for our printed decals. Your decal image will be printed onto adhesive white vinyl (or paper) material and then cut to a simple shape that consists of a square, rectangle, oval or circle. This cut is ideal for decals that don't need to be cut to shape and is the cheapest decal cut because there is not custom cutting involved. (Click here for instant decal pricing.)

Print on Clear: This decal cut is the same as the standard print, but instead of printing on white vinyl, the digital image is printed onto clear vinyl. The clear material allows for the decal to have no background. This cut is ideal for decals that need to be placed on a surface that can be seen through and also as a money-saving option to offset the cost of cloud cut or die-cut decals. (Click here for instant clear decal pricing.)
Cloud Cut: This decal cut involves leaving a white border around the overall shape of the decal image. This border is considered a custom cut, unlike the standard print, and will incur a decal cutting fee. This decal cut is ideal for graphics that can't be cut to shape because of file issues or for giving your decal a contour cut without paying for the expense of a completely custom die-cut decal. (Click to request a cloud cut decal quote.)
Die-Cut: This decal cut essentially cuts your decal out to the exact shape of the graphics without any background. This decal cut is ideal for graphics that will be applied to a surface where the underlying base needs to show through or when you don't want a background on your decal. This is the most expensive decal cut style and varies in price depending on the complexity of the contour cut. Please note: Vector artwork must be supplied to achieve a die-cut decal. (Click to request a die-cut decal quote.)
---
If you have any questions about custom decal cutting or supplying a vector file for die-cut decals, please give us a call at (714) 573-9313