How to Apply Vinyl Lettering and Graphics
We are asked quite often how to install vinyl lettering and graphics.
This video will illustrate our easy vinyl application method.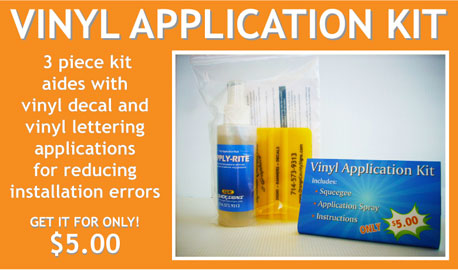 To order adhesive backed vinyl lettering, see our You-Apply-Vinyl-Lettering page. Or give us a quick call at (714) 573-9313 and speak with one of our friendly sales representative over the phone for quotes, pricing and questions.
And to better help our customers achieve a professional looking vinyl application, we have put together a simple Vinyl Application Kit complete with written instructions, to further ease the installation process. The kit is inexpensive and will be shipped with your vinyl order. Inquire about the Vinyl Application Kit when ordering vinyl lettering or vinyl decals.